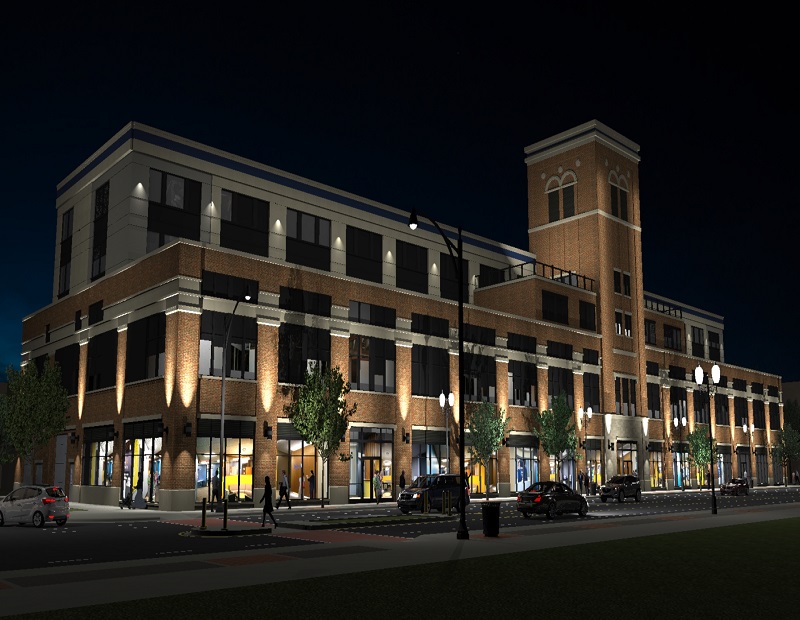 Less than half a year after completing renovations at 156 N. Jefferson St. in West Loop, Summit Design + Build has started a new project in Chicago. The company is working with CA Ventures and Springbank Capital Advisors to convert the former commercial building at 1900 W. Lawrence in the Ravenswood/Lincoln Square area into a mixed-use building. The development will encompass 59 units and 30,000 square feet of retail space, half of which will be leased to DeVry University. Gillespie Design Group is providing architectural services for the adaptive reuse project, which is expected to complete by fall of 2020.
---
READ ALSO: RDG Funds Receives Financing for Historical Chicago Asset
---
The building dates from almost a century ago and was formerly a Sears department store. The three-story development encompasses 105,000 square feet, spanning the length of an entire city block along Lawrence Avenue, and incorporates a central, five-story tower. The tower is expected to house the first floor lobby as well as provide access to amenities and lounge space on floors two through four.
Major changes ahead
One of the most challenging aspects of the project will be creating new window openings for the future units, since the building featured a windowless store design. Developers also aim to extend the third floor by adding a fourth floor to match the full length of the building. Two new elevators and three staircases are part of the plan as well.
For DeVry University, the location will represent its third Chicago campus. It will include 11 classrooms, technology labs, an auxiliary lounge and common area with kitchen, reception, interview rooms as well as new staff offices. ArchInteriors will serve as project architect while Summit Design + Build will complete the build out. Newmark Knight Frank represented the tenant in the lease.