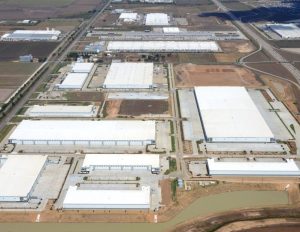 Stream Realty Partners has completed the second phase of Empire West Business Park, a six-building, 2.3 million-square-foot industrial development in the Houston area.
The construction of the complex is Stream Realty's second Houston-area undertaking this year, following a joint venture with Principal Real Estate Investors for the planned construction of Portside Logistics Center, a 1 million-square foot industrial park in Baytown, Texas.
Empire West Business Park is located at 100 Empire Blvd. in Brookshire, Texas, with the first phase completed last year. The park now includes eight buildings ranging between 124,700 and 1 million square feet, according to CommercialEdge. The new buildings will feature occupancies ranging from 50,000 to 1 million square feet of rentable space. A total of 95,000 square feet is currently under lease, with the remainder undergoing negotiations. The developer is planning a third phase of the development, consisting of two more distribution centers totaling 800,000 square feet. The entire facility is located within 1 mile of Interstate 10 and Highway 90, 30 miles west of Houston.
Stream Realty Partners Senior Vice President Jeremy Lumberas and Senior Associate William Carpenter manage the leasing and marketing of the space.
An adapting industrial market
The construction of Empire West Business Park comes as the nation's industrial sector faces both progress and setbacks. Recording rising rents, little available land and the unprecedented growth of e-commerce, the industrial sector is adapting, including the construction of facilities in more residential and commercial districts, according to CommercialEdge data. Texas remains the top market in the southwest for industrial construction, with Houston having 19 million square feet underway as of June, according to the same source.
In this context, Stream Realty Executive Managing Director Matteson Hamilton explained to Commercial Property Executive that "Empire West was designed to accommodate a wide variety of users ranging from local distributors to the most sophisticated e-commerce companies in the country. … Empire West's location provides unmatched access to not only Houston but also Austin, San Antonio and South Texas, which puts over 15 million people within reach of a five-hour drive time."