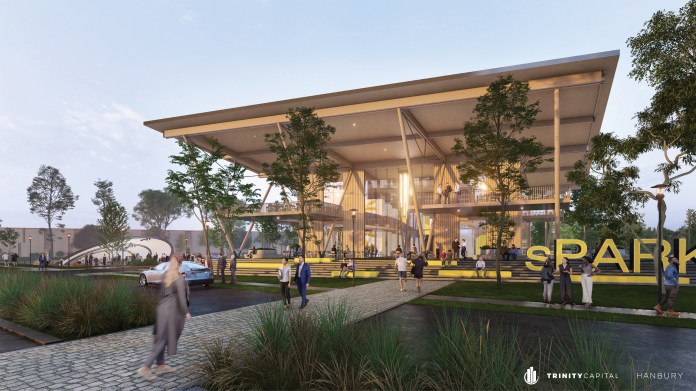 Morrisville, N.C., will soon become home to a state-of-the-art life science campus, now that Trinity Capital Advisors and Starwood Capital Group have joined forces to develop Spark LS, a laboratory and bio-manufacturing development that will span 109 acres in the Research Triangle Park submarket in metropolitan Raleigh-Durham. The project, which will ultimately feature 1.5 million square feet of life science space as well as retail and recreational offerings, will be the largest mixed-use life science destination in the Southeast.
Finding more than 100 acres of greenfield space in Research Triangle Park is no simple task, but Trinity and Starwood, longtime partners who have worked on several projects together including the nearby Park Point and South Port, secured a site at McCrimmon Parkway and Airport Boulevard that zoning restrictions had kept out of play. The partners have tapped architecture firm Hanbury to spearhead the design of the project, which will ultimately feature 12 to 15 structures, ample green space, restaurants, retail offerings, a STEM Education and Amenity Center and outdoor recreation areas.
"RTP is solidly recognized internationally as a top 5 life science market, and life science in both venture capital and from NIH funding and other federal sources has seen extremely robust growth in all of the top markets," Jeff Sheehan, partner with Trinity Capital Advisors told Commercial Property Executive.
"We've had a front-row seat into the demand from our work with Park Point and South Port, and that's what gives us the confidence to make such a big investment here."
Spark will evolve in phases, the first of which will encompass the amenities, including the park and amphitheater and Spark Center, which will house an incubator and programmed community space. The initial phase will also feature 400,000 square feet of speculative life science space spanning three buildings.
Life science-work-play
Spark will be a unique addition to the thriving life science sector for more than just its size; it will be a distinctive property in the area due to its offerings beyond the traditional lab, office and research accommodations.
"When you have a greenfield ground-up project at this scale, you can really make a splash in terms of the mixed-use and the common area elements, versus a one-off building tucked away in the park somewhere," Sheehan noted.
"So we think that's relevant from a recruiting standpoint, and I say that (not only) for economic development—as we're working with our partners at the state and Wake County and the town of Morrisville to recruit companies—but also for those companies to recruit talent," he added. You see more of this mixed-use element in Cambridge, but you haven't really seen that scale in RTP yet."
Trinity and Starwood have filed for site plan approval for Spark with the town of Morrisville, and they are working with the town to get the plan and permits approved. The partners, who have selected the Cushman & Wakefield team of Doug Cook and Suzanna Nichols to oversee leasing for the project, expect to deliver the first speculative life science space in 2023.