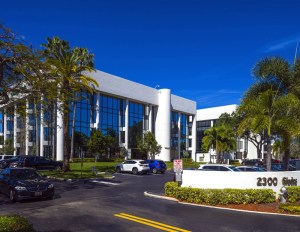 Sterling Organization has secured financing for Glades Twin Plaza, a 97,800-square-foot, Class A office complex in Boca Raton, Fla. Acting on the company's behalf, JLL Capital Markets arranged a $19.4 million loan for the Palm Beach County asset through an unidentified lender.
Carrying the address of 2300 Glades Road, Glades Twin Plaza occupies a 5.3-acre site within Sterling's mixed-use Glades Plaza development. The office complex consists of two four-story buildings that opened in 1982 and underwent substantial renovation in 2009.
---
READ ALSO: Top 5 Office Transactions in Florida
---
The non-recourse financing for Glades Twin Plaza came in the form of a five-year, fixed-rate loan. JLL Capital Markets welcomed a strong response from the lending community, which was attracted to the top-notch sponsorship and robust office demand in the area.
"Both investors and lenders are acutely focused on the secular shift to tax-efficient, business-friendly climates such as Florida," Chris Drew, a senior managing director with JLL Capital Markets, told Commercial Property Executive. "In particular, South Florida has been one of the multiple areas throughout the state that has benefited from this trend."
JLL Capital Markets' Brian Gaswirth, Michael DiCosimo and Reid Carleton joined Drew in representing Sterling in the financing transaction.
Sterling has owned Glades Twin Plaza since the fourth quarter of 2019, when it purchased the asset for $58.4 million as part of a greater portfolio purchase involving the entire Glades Plaza mixed-use destination for a total of $120 million.
The Pull of Palm Beach
Palm Beach County's office sector is benefitting from the consequences of the pandemic. In the first quarter of 2021, new-to-market firms bolstered demand and vied for quality, modern space across Palm Beach County, according to a recent JLL report.
"While the (Palm Beach) CBD remains the center of attention for large firms, suburban submarkets like Palm Beach Gardens and Boca Raton have also reported major increases in activity from firms looking to relocate from the northeast," the report found.
Looking ahead, JLL forecasts the resumption of office occupancy gains in metropolitan Palm Beach by the end of 2021 as new leases commence. The future bodes well for the local office sector, specifically for Class A assets meeting certain criteria.
"Based on the amount of activity that our leasing teams are seeing in the market, South Florida office buildings, such as Glades Twin Plaza, that are located in or near affluent communities and surrounded by terrific amenities, should be well-positioned to outperform the broader market," Drew said.