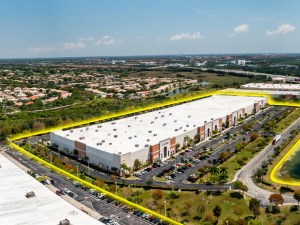 Bridge Point Miramar, an approximately 304,400-square-foot distribution center in Miramar, Fla., has come under new ownership, courtesy of a transaction orchestrated by Cushman & Wakefield. Acting on behalf of Bridge Industrial, the company arranged the sale of the Broward County industrial asset to Cabot Properties in a deal valued at just over $71.5 million.
A state-of-the-art facility developed in 2015, Bridge Point Miramar garnered a substantial amount of attention among the investment community. "We had a variety of investors submit bids for the asset; most would qualify as domestic institutional industrial real estate investors," Mike Davis, vice chair with Cushman & Wakefield, told Commercial Property Executive. Davis' colleagues Rick Brugge, Dominic Montazemi, Rick Colon, Chris Metzger, Matt McAllister and Rick Etner joined him in representing Bridge in the sale.
Bridge named the rear-load distribution center, located at 15501 SW 29th St., Bridge Point Miramar after acquiring the asset from Sherm Realty Corp. for just $38 million in 2019. Located on 20 acres, the facility sits within easy reach of the ports of Ft. Lauderdale, provides direct access to vital thoroughfares and is within walking distance of a bevy of amenities.
"The (sale) price suggests investors believe there is strong upside in rents as demand for this exceptional location for tenants continues," said Davis, who also represented ownership when the building traded in 2019. Tenants at Bridge Point Miramar include Aero Accessories and Kellstrom Defense.
The ever-increasing upside
Same as much of the national industrial market, Broward County is faring well. In the second quarter of 2021, the market recorded 1.4 million square feet of new leasing activity—1.3 million square feet of which could be attributed to warehouse/distribution leases—marking a year-over-year increase of 19.9 percent, according to a Cushman & Wakefield report. Additionally, overall asking rates rose 1.4 percent over the second quarter of 2020.
The forecast for the sector, and assets like Bridge Point Miramar, is promising. Cushman & Wakefield expects the Broward County industrial vacancy rate, which was 6.6 percent in the second quarter, to go on the downswing over the next 12 months and anticipates that the 1.6 million square feet of net absorption that has been recorded year-to-date will increase over the next 12 months.