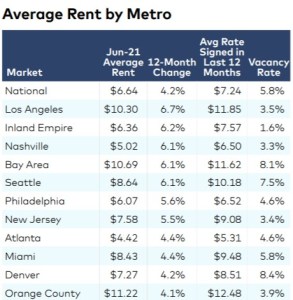 The industrial sector is going strong according to the latest CommercialEdge National Industrial report. There were $23.3 billion in industrial sales recorded in the first two quarters of 2021. CommercialEdge believes this has put the year on track to meet or exceed the $45.0 billion in sales recorded in 2020. The high transaction value that was seen this year was not a result of more transactions, but an increase in prices. In the second quarter, industrial sales averaged $113 per square foot, a 31 percent price increase over the same interval in 2020.
New Jersey had the largest increase in sales price. The price per square foot increased 51 percent from $134 in 2020, to $202 in 2021. Other markets with notably large increases were Orange County ($224 to $322, 44 percent), and Denver ($119 to $164, 39 percent).
Nationally, industrial rents averaged $6.64 per square foot in June, up 4.2 percent year-over-year. New leases signed over the same period averaged $7.24. Rent growth was highest in west coast port markets—Los Angeles rents rose 6.7 percent year-over-year, the Inland Empire's average rent rose 6.2 percent, while the Bay Area and Seattle both rose 6.1 percent.
The national average vacancy rate was 5.8 percent in June. The Inland Empire had the lowest vacancy rate of all markets surveyed, at 1.6 percent. Los Angeles and Orange County had vacancies at 3.5 and 3.9 percent. On the east coast, New Jersey and Philadelphia's vacancy rates were at 3.4 and 4.6 percent.
Nationally there was 447.5 million square feet under construction, accounting for 3.0 percent of existing stock. There was an additional 451.1 million square feet in the planning stages. The largest pipelines on a percentage of stock basis was inland markets where land is cheaper than in coastal markets. Phoenix had 23.2 million square feet under construction representing 8.8 percent of stock. Phoenix had an additional 32.9 million square feet in the planning stages bringing their entire pipeline to 20.9 percent of existing stock.
There is growing institutional interest in the sector. Greystar acquired the remaining 55 percent stake in Thackeray Partners after acquiring a 45 percent stake in 2020. Other firms recently entering the industrial space include Velocis, Rockpoint Group, and Rising Realty Partners.
Read the full CommercialEdge report.