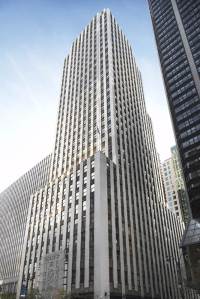 SL Green is making more moves in Manhattan. New York City's largest landlord announced today the sale of a 49 percent stake in 220 E. 42nd St. for $790 million to a real estate fund managed by Meritz Alternative Investment Management. SL Green will keep the remaining majority share of the building.
The transaction comes days after news broke that SL Green had acquired the fee interest in 461 Fifth Ave. for $28.3 million from an affiliate of Karp Family Associates and less than a month after the company closed a $3 billion refinancing of Midtown skyscraper One Vanderbilt.
---
READ ALSO: SL Green Inks Expansion, New Lease at One Vanderbilt
---
Known as the Daily News Building, 220 E. 42nd St. is a 37-story Art Deco office tower in Tudor Hill. Built in 1930, the landmarked building was once the home to the headquarters of The New York Daily News. SL Green first purchased the property in 2003. The real estate firm undertook a multi-year renovation of the property, which is currently 93 percent leased. The roster of tenants at the building includes Omnicom Group, television station WPIX and the United Nations.
Meritz Alternative Investment Management CEO Jun Hyun Shin said in prepared remarks that the 220 E. 42nd St. deal marked the fourth transaction between Meritz and SL Green and the company plans to work together again in the future.
Doug Harmon and Adam Spies of Cushman & Wakefield represented SL Green in the transaction.
Rebounding office market
Manhattan's office vacancy rate is among the lowest in major cities nationwide, according to CommercialEdge data. In late May, office vacancy was at 10.4 percent, well below the national average of 15.6 percent. Washington, D.C., and Chicago topped the list with 15.8 and 16.8 percent vacancies.
Earlier this week, consulting firm Vidaris inked a deal to relocate its headquarters from 360 Park Ave. to 19,000 square feet at 151 W. 42nd St., a Midtown office property owned and managed by The Durst Org. The firm will move to its new digs in December, where it will occupy the entire 24th floor.