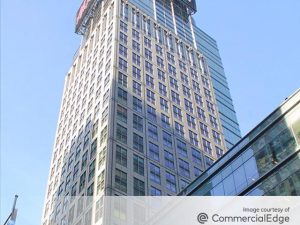 Vidaris Inc. is set to relocate its headquarters from the 21-story 360 Park Ave. in December. The consulting firm has signed a 10-year lease for 19,000 square feet occupying the 24th floor at 151 W. 42nd St. in Midtown Manhattan. The property is owned and managed by The Durst Organization. The asking price was $95 per square foot, Commercial Observer reported.
The 48-story high-rise at 151 W. 42nd St., now also known as One Five One, is subject to an unsubordinated net ground lease held by Empire State Development, according to CommercialEdge. In 2019, JPMorgan Chase originated a $900 million loan for the 1999-built property, the data provider also shows.
Currently, BMO Capital Markets—the anchor tenant since Conde Nast's relocation in 2014—occupies 215,056 square feet in the 1.8 million-square-foot Class A tower. In May 2020, the parent company of the video-sharing app TikTok signed for 232,000 square feet spread across seven floors. The company signed a 10-year lease, which includes the top five floors of the building, formerly used by Skadden Arps, as well as two floors previously occupied by Conde Nast. The tenant roster of the Times Square skyscraper also includes Vevo, SS&C Technologies, NCC Media and Nasdaq.
Durst Executive Vice President Tom Bow, Senior Managing Director Rocco Romeo and Managing Director Lauren Ferrentino worked on the Vidaris lease.
In March, Durst signed a 15-year lease with Jenner & Block for 67,000 square feet in another Manhattan high-rise, the 41-story 1155 Avenue of the Americas.
A Times Square landmark
Designed by Fox & Fowle, One Five One encompasses 45,600 square feet designated for amenities and retail such as conference and meeting rooms, as well as a food hall. The Theater District building's fourth floor is the home of Well&, Durst's amenity brand.
Previously known as the Conde Nast Building and Four Times Square, the tower underwent a $150 million capital enhancement program in 2017, obtaining LEED Gold certification. Interior renovations targeted the lobby, entrances, elevators, destination dispatch controls, automation in the building, temperature control systems and ventilation.
Manhattan office market faces crosswinds
As of May, Manhattan office vacancy clocked in at 10.4 percent, marking a 240-basis-point year-over-year rise. Nonetheless, the figure is well below the 15.6 percent U.S rate and the lowest among gateway metros. With 19.3 million square feet of office space under construction in May, Manhattan's pipeline shrank by 1.6 percent month-over-month, following a declining trend set at the beginning of the year.
Facing uncertainties brought by the pandemic-induced downturn, temporary solutions, such as subleases and short-term renewals, as well as turning vacant buildings into testing sites, helped fuel the adaptability of the market. However, according to President & CEO of Wharton Property Advisors Ruth Colp-Haber, a substantial comeback in high-density New York will only be possible once people place more trust in health and safety measures and return to the offices.