By Samantha Goldberg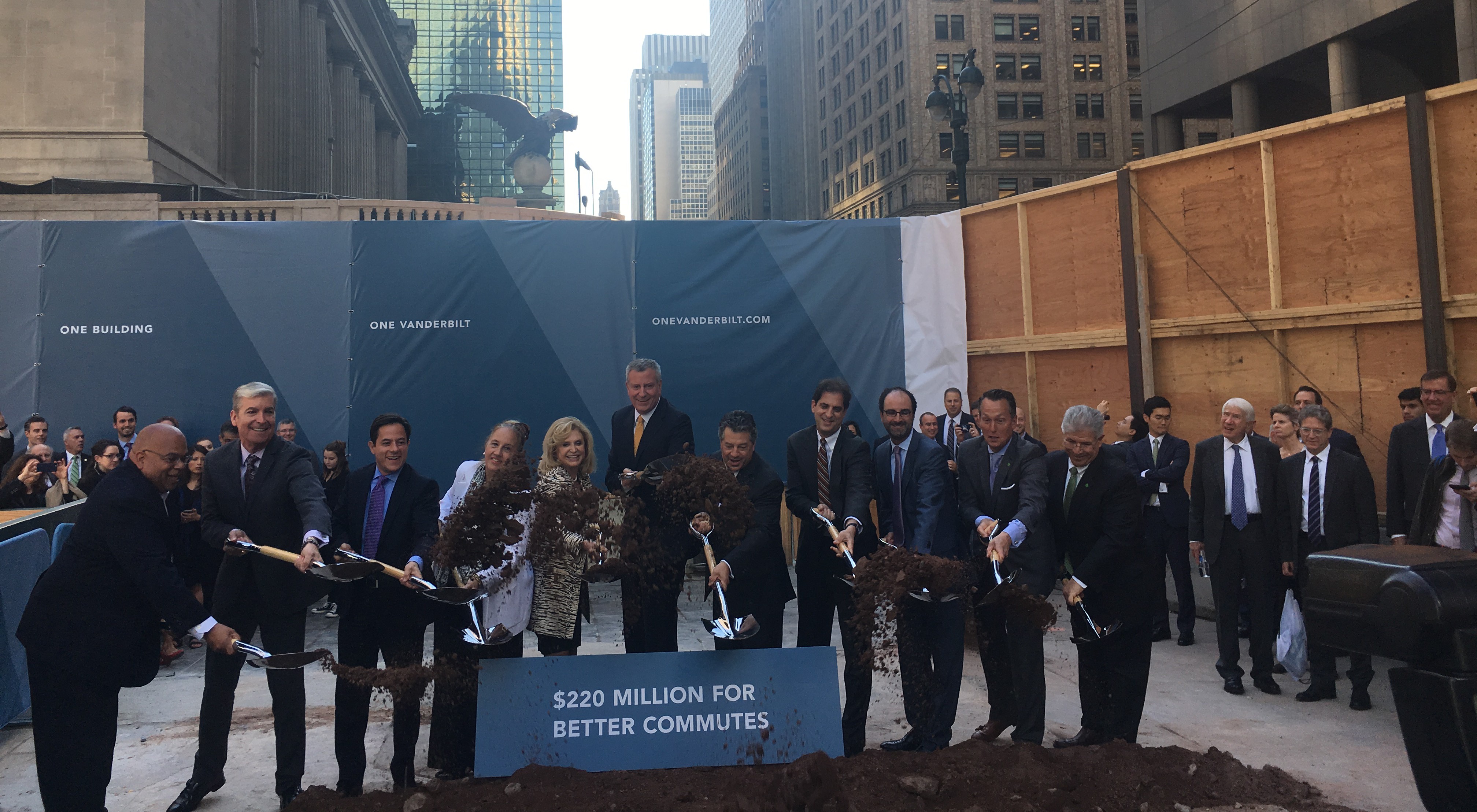 New York—Developer SL Green Realty Corp. today broke ground on One Vanderbilt Avenue, an office skyscraper that is set to be the second tallest tower in New York City. The start of construction on the 1,401-foot tower marks the beginning of a planned revitalization of Manhattan's East Midtown business district, including Grand Central Terminal.
As part of the tower's development, SL Green will contribute a whopping $220 million to upgrade the city's transit infrastructure around Grand Central Terminal. Plans include building direct connections between the two buildings; improving transit access to Metro-North, the city subway system and future Long Island Rail Road East Side Access; and adding a 14,000-square-foot outdoor pedestrian plaza on Vanderbilt Avenue between 42nd and 43rd streets.
SL Green had a special permit approved under Vanderbilt Corridor Rezoning that allowed the developer to build at a greater density in exchange for investing in the public transit improvements. A larger rezoning plan for a 78-block area of East Midtown (which includes the area surrounding Grand Central) is in the works to allow more developers to enter into similar agreements to provide modern buildings while improving the city's infrastructure. The plan will enter into public review by the end of the year.
"One Vanderbilt will serve as a blueprint for smart, 21st century commercial development by unlocking density, delivering architectural excellence and spurring transit-oriented development across the entire district," said Mark Holliday, CEO of SL Green, at the groundbreaking ceremony. "One Vanderbilt represents the first achievement in the city's commitment to a revitalized East Midtown."
He added that the start of this project began 15 years ago, and came with its challenges, "as it should with this type of development." SL Green worked with the city to incorporate benefits for the public into the development project, not only delivering "much-needed modern office space" but also "transforming the commuting experience" with the planned $220 million improvements, Holliday said.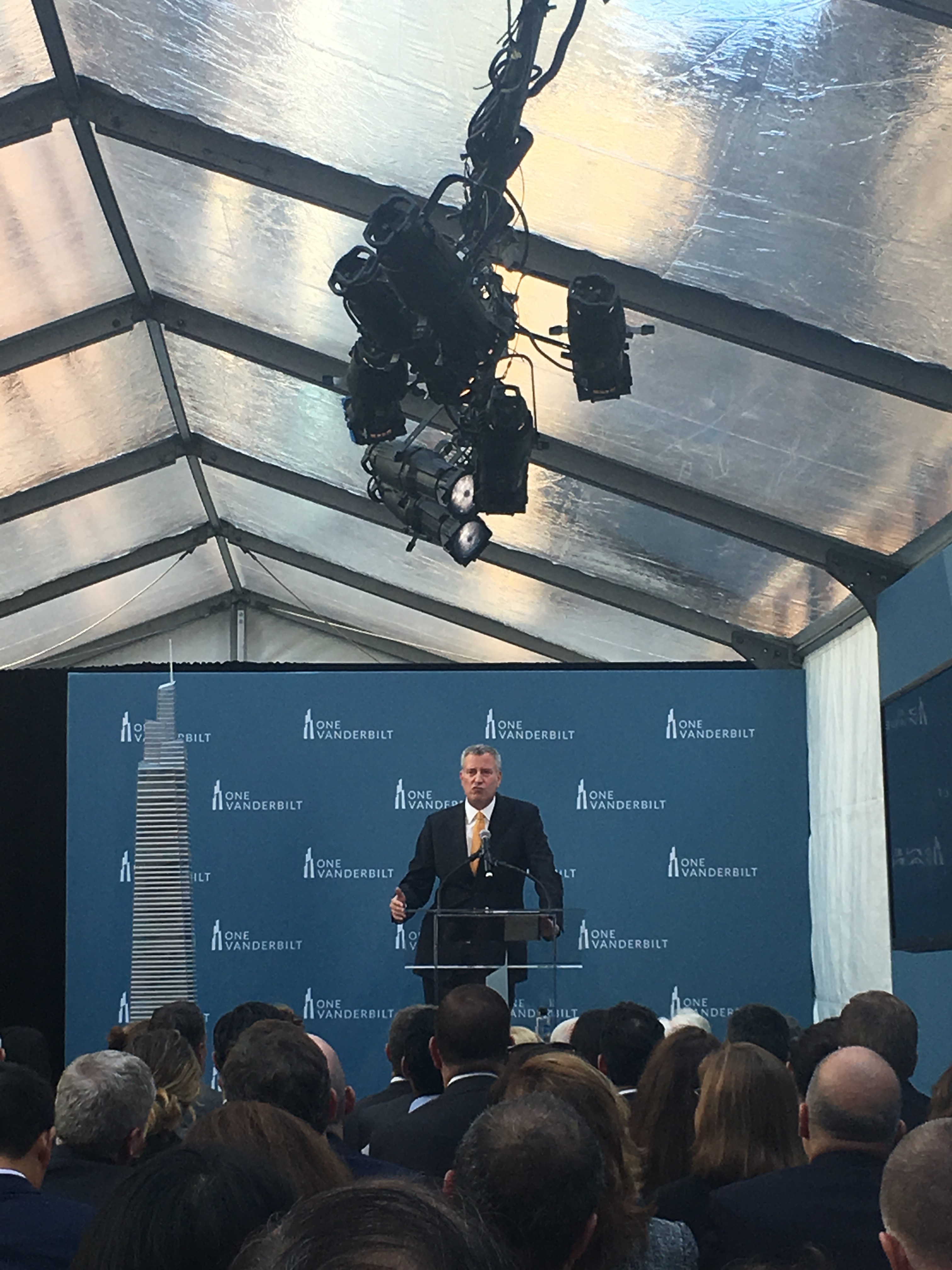 To ensure the transit investments happen—and in a timely manner—the city made sure there was a provision in the agreement that tenants will not be able to move into the upper floors of the building until the infrastructure work is done, Mayor Bill de Blasio said at the ceremony. About two-thirds of the investment will go toward completely renovating the 4,5,6 subway station at Grand Central, the second busiest station in New York. Improvements will include more exits and roomier platforms, which will ease pedestrian flow and allow the MTA to run two extra trains per hour.
"We needed to set a template for ensuring there were real positive developments for the people of the city," de Blasio said. "That commitment from all the partners was consistent…One Vanderbilt is going to make a huge impact and be the kind of development that people of New York will feel like there is something in it for them."
Despite One Vanderbilt's super-tall structure, its design is also focused on showcasing the terminal and not overshadowing it. Designed by Kohn Perderson Fox Associates, the building's transparent, angled base with reveal the Grand Central Vanderbilt cornice, a view that has been blocked for nearly a century, and materials throughout the building will echo the historic terminal's design. AECOM's Tishman Construction is set to build One Vanderbuilt, making it the builder of the city's two tallest office towers, the other being the 1,776-foot-high One World Trade Center, which is also the tallest building in the Western Hemisphere. Hines is SL Green's development manager for the project.
While vertical construction is not set to begin until late 2017, One Vanderbilt will offer 1.7 million square feet of column-free Class A office space with a 300,000-square-foot, tenant-only amenity floor and upscale dining upon completion in 2020. The building, taking up a whole city block bounded by Madison and Vanderbilt avenues, will also be sustainable, targeted to achieve LEED Platinum certification.
SL Green already has a commitment from TD Bank to be the anchor tenant, with plans to occupy about 200,000 square feet of office and retail space, including a flagship store at the corner of 42nd Street and Madison Avenue. SL Green hopes to attract more companies seeking top-quality office space.
"When development is done carefully, when we work together, when we guarantee we'll produce real improvements and do right by our precious landmarks, then everyone wins," said Manhattan Borough President Gale Brewer.
"Today's groundbreaking is the first step in the mission of ensuring that East Midtown continues to be a vibrant commercial district," added City Council Member Dan Garodnick. "A world-class business district needs both Class A office space and a class A environment to work in once you go outside. We have committed to achieving both and we are going to get it done."
For an inside look at One Vanderbilt, see the building website.