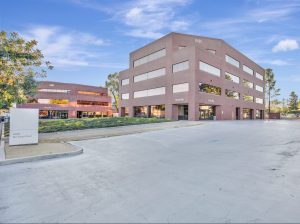 New York-based Cantor Fitzgerald Income Trust has entered the Bay Area market by acquiring an Apple-leased office campus in Cupertino, Calif., for $63.8 million. Madison Marquette of Washington, D.C., was the seller of the two-building De Anza Plaza property.
A team of Colliers brokers comprising Executive Vice Presidents Andy Zighelboim, Robert Gilley, Brad Idelman and Kevin Moul, along with Senior Vice President Andrew Gibson represented the seller in the transaction.
---
READ ALSO: San Francisco Market Update: Silicon Valley Leads in Sales Volume
---
The 83,959-square-foot property sold for roughly $759 per square foot, arguably one of the highest prices to be recorded in the Bay Area market this year, CommercialEdge data shows. As of June, the average price per square foot in year-to-date sales in the market was $505, the latest CommercialEdge report shows. The deal underlines investor appetite for high-growth science and technology markets, noted Zighelboim in a prepared statement.
Madison Marquette initially acquired the two-building property in 2016 in a partnership with Seoul-based Hana Financial Investment and Darby Hana for $51.8 million, according to CommercialEdge. The sale was funded by KEB Hana Bank, which provided a $33 million loan.
Property characteristics
The two buildings comprising De Anza Plaza are situated at 10001 and 10101 N. De Anza Blvd., on the corner with Stevens Creek Boulevard in downtown Cupertino. The office at 10001 N. De Anza Blvd. totals 29,185 square feet across its three floors. It includes ground-level parking at a ratio of two spaces per 1,000 square feet. The second building comprises 53,225 square feet and is a four-story office that features a parking ratio of 3.5 spaces per 1,000 square feet.
The buildings were originally constructed in 1985 and 1986, respectively, and underwent a cosmetic renovation in 2002. They both offer large floorplates suitable for a technology tenant, along with subterranean parking. The property has been fully occupied by Apple since 2016. The technology giant has made several improvements to the property since it became a tenant.
De Anza Plaza is situated roughly 1 mile South from Apple's 800,000-square-foot campus at 1 Infinite Loop, and about 3 miles West from the tech giant's newest headquarters—Apple Park—at 1 Apple Park Way. De Anza Plaza benefits from exposure to the area's main thoroughfares, including De Anza and Stevens Creek Boulevards, while also facilitating immediate access to Interstate 280 and State Route 85. Downtown Cupertino offers a variety of shopping and dining destinations, among the multitude of technology businesses present nearby.
Tech, R&D and life science assets in high demand
The Bay Area office market this year saw a strong interest from investors seeking to get their hands on high-performing assets anchored by technology tenants. LinkedIn's $323 million purchase for instance occurred earlier this month. The market is also experiencing an increased level of leasing activity in suburban markets like Cupertino, highlighting a potential route for recovery.
Life science and R&D properties are most in-demand across the Bay Area, with a similar story unfolding in the San Francisco-Peninsula market as well. As of June, South San Francisco had more than 3 million square feet of such assets under development, with most of those projects slated to come online this year, CommercialEdge data shows. Meanwhile, vacancy across suburban markets like Cupertino is slightly improving. In June, the submarket's office vacancy reached 11.8 percent, faring better than the Bay Area's average vacancy of 18.6 percent.