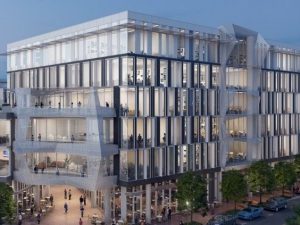 Shorenstein Properties LLC has sold the Alpha Building, a brand-new office tower within the master-planned community of Mueller in Austin, Texas, to the Teacher Retirement System of Texas. TRS paid an estimated $138.1 million for the 210,000-square-foot property, where it plans to relocate a portion of its headquarters, according to a document from the public pension plan's December 2021 board meeting.
Carrying the address of 1900 Aldrich St., Alpha is the first of four structures that will comprise a total of approximately 800,000 square feet of premier Shorenstein office space at Mueller, a 750-acre live-work-play enclave sited just outside downtown Austin. Page Sutherland Page is the architecture firm behind the design of Alpha, which features roughly 26,000 square feet of retail space on the ground level of its six floors; although, TRS will not own the retail segment. The property's list of amenities also includes private balconies, a landscaped courtyard with meeting areas and an outdoor amphitheater.
Going for seconds
TRS, which currently maintains its home base approximately 3 miles away at 1000 Red River Road in downtown Austin, will not squeeze the entirety of its administrative headquarters into Alpha when it commences its relocation. CBRE's Troy Holme and Peter Jansen, who represented TRS in the Alpha transaction, arranged for Shorenstein to sell another office building to the pension plan.
Shorenstein's second tower to be erected at its Mueller Business District will be the Bravo Building, and the real estate developer will sell the 250,000-square-foot structure to TRS for an estimated $161.9 million, per the TRS board meeting document. Ultimately, TRS will occupy Bravo in its entirety and set up shop on all but two floors of Alpha, leaving the remaining office square footage to be leased openly on the market.
In the board meeting document, Brian Guthrie, executive director of the Teacher Retirement System of Texas, is reported as promoting the Alpha/Bravo proposal as one that "demonstrates financial stewardship." He also described the headquarters proposal as "a solution with several benefits: it is outside of the downtown area; it is in East Austin; it is a generational solution for TRS that will improve member access."
TRS employees will commence the headquarters relocation in phases, beginning with department moves to Alpha in spring 2023, followed by additional relocation activity upon the completion of Bravo in 2024. Shorenstein is in the midst of planning Mueller's final two office structures, the Charlie Building and the Delta Building, which will add a final 350,000 square feet of office space to Shorenstein's Business District at the mixed-use community.
Evolution of a trend
If the sale prices of Alpha and Bravo are any indication—roughly $650 per square foot for each—what seemed like a blip on the radar in the latter half of 2021 may evolve into a pattern in 2022. The Austin office investment sales market has been firing on all cylinders.
In November 2021, the average national office sale price was $291 per square foot and the average office sale price in Austin was $441 per square foot, according to CommercialEdge data. However, in late August 2021, Apple acquired the 216,000-square-foot Capital Ridge from GLL Real Estate Partners for $140 million, or $648 per square foot. Already, Austin's most recently recorded average office sale price per square foot has exceeded that of such Tier 1 markets as Boston, Los Angeles and Washington, D.C.