By Ariela Moraru
Developer FivePoint Holdings LLC, a spinoff of Lennar Corp., and exclusive leasing agent Cushman & Wakefield have launched commercial offerings at The San Francisco Shipyard, a nearly five-million-square-foot revitalized waterfront community. This will be the Bay Area's largest commercial development under single ownership, according to the brokers.
Located at 11 Innes Court, The San Francisco Shipyard will anchor a wider plan along San Francisco's southeastern shoreline, which also incorporates Candlestick Park. The mammoth development will encompass more than 750 acres, with approximately 350 acres dedicated exclusively to park space. Combined with Five Point Holdings' Candlestick Point, the multibillion-dollar project will boast:
a total of 12,100 new homes which will include affordable and market-rate apartments, townhomes and condominiums;
up to 4.3 million square feet of R&D labs, office and makerspace within an urban innovation district;
a 150,000-square-foot hotel;
nearly 1 million square feet of retail;
255,000 square feet of artist studios and gallery space;
100,000 square feet of community facilities.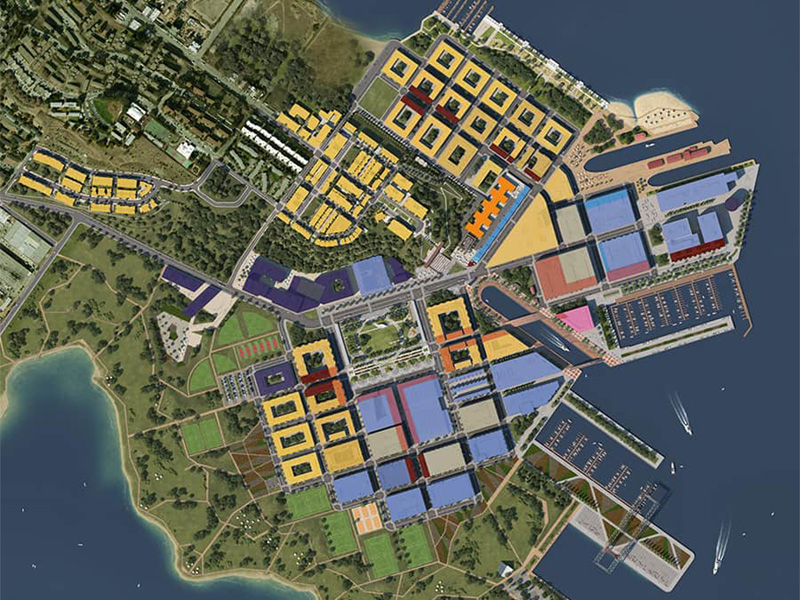 Cushman & Wakefield executive managing directors and managing principals J.D. Lumpkin and Mike Moran are leading leasing efforts. "The early adopters will have a significant advantage in terms of what they are able to achieve here. The unique entitlements at The Shipyard will allow companies to create their own working environment with certainty and grow in phases at a scale that is simply not possible anywhere else in San Francisco," said Lumpkin in a prepared statement.
Transit options will include ferry service, shuttles to BART and CalTrain, light rail access, bus service, dedicated cycling paths, car-share and ride-share and abundant parking for those who choose to drive to work.
"Much as the center of gravity for San Francisco shifted south when the Giants moved into town, the center of gravity for San Francisco will shift south again as The San Francisco Shipyard community comes on-line," said Moran in prepared remarks. "We are open for business and can address office, R&D, life science and other creative uses on-site."
Images courtesy of Cushman & Wakefield