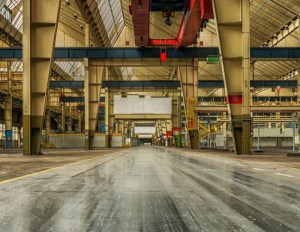 Taiwan-based Sunlit Chemical has broken ground on its first U.S. manufacturing facility, a 900,000-square-foot plant in Phoenix's suburb of Deer Valley. The semiconductor chemical supplier will develop the $100 million project in two phases, with the first one scheduled to start operations in early 2023 and the second one in 2025.
The facility will take shape on 17 acres near the intersection of Seventh Avenue and Alameda Road, within the 224-acre Mack Innovation Park, a property designated by the City of Phoenix as one of the three supplier sites for Taiwan Semiconductor Manufacturing Co.'s plant. Sunlit acquired the parcel from Mack Real Estate Group for $8.2 million in August, according to public records.
Once fully operational, Sunlit's facility will produce hydrofluoric acid and other high purity grade industrial chemicals used in the manufacturing of semiconductors. The plant could be a supplier for both TSMC and Intel, according to Perpa Hsieh, general manager of Sunlit Arizona, cited by the Phoenix Business Journal.
First supplier to make a move
In fact, Sunlit was the first potential TSMC supplier to acquire land and start building a facility near the computer chip giant's future fab. In late 2020, Chang Chun Petrochemical Group, United Integrated Services Co. Ltd. and Mirle Automation Corp. also announced their intention to expand into Arizona but didn't act on that decision right away.
Only in November 2021, CCP Group acquired an 84-acre development site for a production facility in Casa Grande, Ariz. The parcel is adjacent to a 1.2 million-square-foot logistics project of Walbridge Group.
Invited by TSMC to support its U.S. production, Taiwan Specialty Chemicals Corp. will also be joining the suppliers' cohort in the near future, according to the Taipei Times. However, TSCC prefers to lease rather than to purchase, as land prices of parcels located near the TSMC facility have quadrupled in recent months, the CommonWealth Magazine noted.
News of the semiconductor world
Poised to become a major player in America's semiconductor manufacturing world, Greater Phoenix has seen significant industry-related investments during the past year. In June, TSMC broke ground on the $12 billion first phase of its massive plant located near the intersection of Loop 303 and Interstate 17 in northern Phoenix. The first building is slated for a July 2022 completion.
In September, Intel started construction on Fab 52 and Fab 62, its two semiconductor factories in Chandler, Ariz. When fully operational in 2024, the facilities will employ 3,000 workers, becoming the largest semiconductor producing site in the U.S.
In one of the more recent moves, EMD Electronics announced a $28 million investment for a Chandler factory in January. The company intends to expand its gas and chemical delivery systems business in North America and Europe.