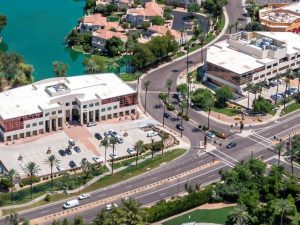 Alturas Gainey Ranch has acquired Gainey Ranch Town Center I & II, two office properties totaling 126,516 square feet in Scottsdale, Ariz., for $33 million from Gainey Ranch Town Properties Inc.
Completed between 1997 and 1998, Gainey Ranch Town Center spans 3.9 acres and comprises two three-story Class A office buildings of 67,283 square feet and 57,884 square feet, respectively. The LEED-certified properties also include a two-level subterranean parking garage with 488 parking spaces. CommercialEdge data shows that the structures have 22,950-square-foot and 23,500-square-foot floorplates. FineMark National Bank & Trust, Nathan & Associates, Regus and Claridge Law Group, among others, are the current tenants at the property.
---
READ ALSO: Building a Greener Phoenix
---
Located at 7702 & 7600 E. Doubletree Ranch Road, Gainey Ranch Town Center is less than 3 miles away from Arizona State Route 101 and some 5.5 miles north of Scottsdale city center. Several dining and retail options are less than 2 miles from the property.
Senior Managing Director Ben Geelan, Senior Director Will Mast and Managing Director Lynn Lachapelle were part of the JLL Capital Markets team that facilitated the deal on behalf of the seller. The Cushman & Wakefield team that represented the buyer was led by Executive Managing Director Eric Wichterman and Alexandra Loye, Managing Director Mike Coover, and Executive Director Steve Lindley. Going forward, Senior Director Scott Boardman and Senior Associate Kristina Cutillo will handle the leasing of the assets.
The office sector stays strong in Phoenix
The Phoenix market represents an opportunity for out-of-state investors such as Alturas. Gainey Ranch Town Center was well maintained over the past 20 years, with four new leases—representing a quarter of the property's total square footage—closing in the past few months and during escrow, noted Wichterman in prepared remarks.
With more than 2.8 million square feet of office space changing hands in Greater Phoenix in the first quarter of 2022, total office sales were up 12 percent on an annual basis, a recent CommercialEdge report shows. One of the largest transactions closed in March, when a partnership between Monarch Alternative Capital and Tourmaline Capital Partners acquired The Esplanade, a four-building office campus, totaling 906,459 square feet.