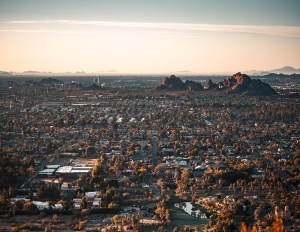 Phoenix is widely known for its hot temperatures and dry climate. However, despite the city's reputation for not being the most sustainable, the metro has gained traction in its commitment to turning that around. Over the past few years, city officials have implemented several initiatives to create a cooler, greener city, and it seems to be working.
Back in 2016, the Phoenix City Council adopted eight 2050 Environmental Sustainability goals to promote the city's desire for long-term environmental growth. These included transportation, waste, water stewardship, building and land use, parks and open spaces, clean air and local food systems. The city ranks number 16 on the EPA's 2021 list of cities with the most Energy Star Buildings. To achieve Energy Star certification, one is required to use 35 percent less energy than typical buildings.
---
READ ALSO: 4 Ways Phoenix Benefits From the Infrastructure Bill
---
In honor of Earth Day, let's take a look at how Phoenix's sustainability efforts are evolving, and how commercial real estate plays a part.
Getting from A to B
The Transportation 2050 Plan includes tripling the amount of light rail miles to 60, allowing 90 percent of the population to be a 10-minute walk from transit, creating 300 miles of walkable bike or canal paths, and encouraging walking and biking amongst all communities. In addition, the plan calls for lowering the carbon intensity of the current transportation system by 80 percent by developing 15 compact complete centers throughout the city to provide services needed to residents locally and encouraging environmentally friendly transportation modes and the infrastructure needed for electric and low carbon fuel vehicles.
"The city of Phoenix estimates there will be 280,000 EV's in the area by 2030, and we think that number will be even higher," Mark Sonnenberg, senior vice president & partner – Southwest Region, CRG, told Commercial Property Executive.
Phoenix is currently overhauling its transit stations including the South Central Extension/Downtown Hub that will connect its current light rail system and operate southbound. There is also a development at McKinley Street creating a loop to the existing Valley Metro Rail, adding an extension at Washington and Jefferson Streets and the Third Avenue loop that will connect to the future Capital Extension project. The city is also continuing its work on the 8.3-mile I-10 West Extension connecting Valley Metro Rail to west Phoenix, marking the county's first major urban freeway reconstruction project.
Keeping it Cool
With the city averaging a high of 106 degrees, officials are coming up with new ways to keep its people and the metro safer from the heat. Two years ago, Phoenix adopted the cool pavements system, which entails applying reflective coating to sidewalks and walkways to lower extreme surface temperatures. The program was a success, resulting in an average temperature of 10.5 to 12 degrees lower than traditional asphalt. This past weekend, Phoenix Mayor Kate Gallego shared on Twitter the start of the Cool Corridors program, which showed her planting the first of 100 shade trees and structures around the city to help decrease heat. The first one can be found at Cesar Chavez Park. The city is aiming to double its tree and shade canopies to 25 percent by 2030.
Back in October 2021, Gallego named David Hondula, an environmental scientist and heat researcher at Arizona State University, as director of the nation's first publicly-funded office of heat response and mitigation.
Phoenix's 2050 goal is to have all residents within a 5-minute walk to a park or pathway. This is being done by adding 150 miles of paths, greenways and bikeways through the city and transforming an additional 150 miles of canals into public space. According to the city's website, Phoenix has more canals than Venice, but they are in need of significant upgrades in order for them to be used.
Developing Green
The city is aiming to reduce community carbon emissions by 80 to 90 percent, with the longer term 2060 goal of becoming a carbon-neutral city. All new buildings made after 2050 will be net-positive in terms of energy and materials, meaning they will produce more energy than they are consuming. Some initiatives to getting this done are passive design, water reuse, and the inclusion of renewable resources and materials.
"The city of Phoenix employs its Phoenix Green Building Program. This program promotes and recognizes businesses that volunteer to operate in a more environmentally responsible way," Andrew Cheney, principal, The Coppola-Cheney Group, told CPE. "There are no formal incentives from the city. Developers also seek to design their projects to be eligible for energy rebates from the two major utilities: SRP and APS."
CRG is currently working on two major industrial projects in the area, The Cubes at Glendale and The Cubes at Mesa Gateway. The latter required one of the most massive and complex infrastructure improvement scopes of any industrial park by the firm.
"The utility expansion was particularly difficult because the site sits between two transmission lines, as well as one rail line, with the rail provider proposing adding a spur line directly to the site," said Sonnenberg.
The company had to work with city and county agencies, utility providers and two national rain transportation companies to lay the groundwork needed to support the $300 million, 268-acre park.
Another example of a development in the metro area utilizing these programs is SkySong. The ASU Scottsdale Innovation Center is a 1.2 million square foot mixed-use project featuring Class A commercial office space, retail, restaurant, hotel and multifamily in Scottsdale. All five office buildings have achieved LEED Silver certification, have water recycling and reduced consumption programs, and a state-of-the-art shade structure.
"If you ask most developers and contractors, they are practicing sustainable practices right down the middle of the fairway," Cheney said. "They are using LED lighting where possible, as well as electric vehicle charging stations, low waste emitting materials, low flow plumbing, recycling materials, zero scape landscape and using more concrete instead of asphalt to reduce the heat island effect."