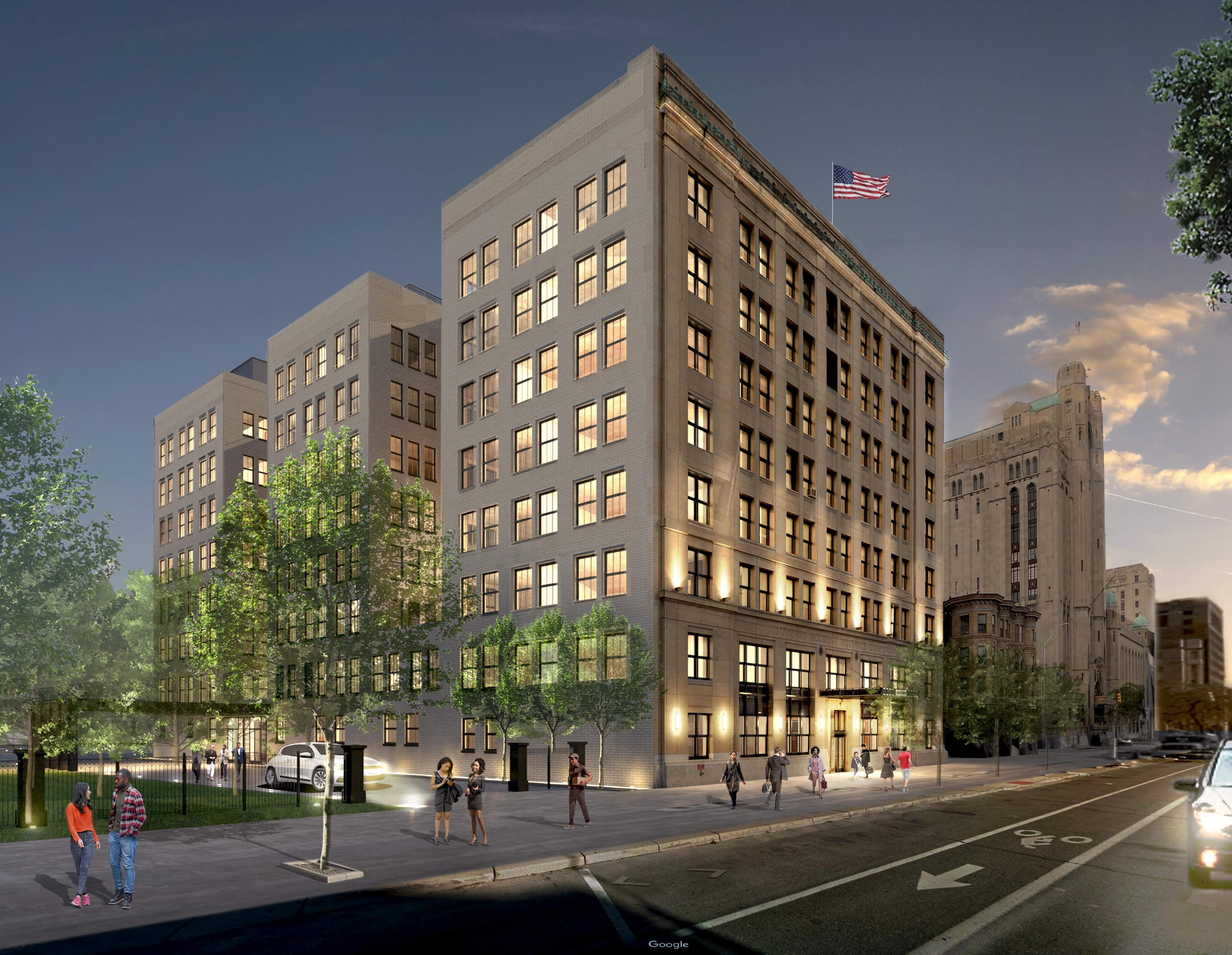 sbe and partner Byzantine Holdings will develop Temple Detroit, a $72 million project that will combine 100 hotel guestrooms, 70 residential units and three food-and-beverage venues in downtown Detroit's Cass Corridor. The eight-story, 190,000-square-foot building dates to the 1920s and was designed by Albert Kahn—sometimes called "the architect of Detroit"—for the Standard Accident Insurance Co. The redevelopment is scheduled to open in June 2020.
Sited at 640 Temple St., across from Cass Park, the property reportedly will be the first in the luxury House of Originals brand, which was announced last month by sbe and Accor. Amenities will include DJ's and live music in a subterranean club, a rooftop pool and lounge with skyline views of Detroit, a full-service spa, along with indoor and outdoor event spaces. The location is just two blocks from Little Caesar's Arena, Comerica Park, Ford Field and about 1 mile from Detroit's central business district.
The project's includes partners Christos Moisides, David Sutherland and Gretchen Carhartt Valade, with Detroit-based Chemical Bank providing financing. Architect McIntosh Poris, Rockford Construction and Kravitz Design, Lenny Kravitz's New York-based interior design company, are also involved in the redevelopment.
Ready for luxury growth
Last July, Accor and sbe reached an agreement under which Accor acquired a 50 percent interest in sbe. Together, the companies are developing The House of Originals as a new luxury global brand. The initial phase of properties is set to include—in addition to the Detroit project—the Sanderson and St. Martins Lane in London, 10 Karakoy in Istanbul and the Shore Club in Miami Beach, Fla.
The worldwide luxury hotel market, valued around $83.1 billion, is predicted to grow at a compound annual growth rate of 4.3 percent through 2025, according to a 2018 report from Grand View Research.