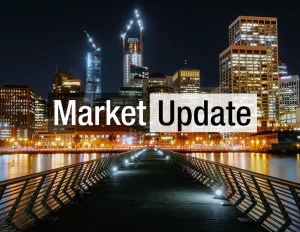 As of June, office vacancy in the San Francisco-Peninsula market reached 14.3 percent, a 40-basis-point uptick month-over-month, CommercialEdge data shows. Year-over-year, the vacancy rate was up by 480 basis points.
The Bay Area market—including both the East and South Bay—experienced a drop of 30 basis points in month-over-month office vacancy, reaching 18.6 percent by the end of June. Year-over-year, the figure increased by 260 basis points.
Among gateway cities, San Francisco's office market is on the lower end of the list. Los Angeles is currently faring better, having reached 13.1 percent at the end of June, while Manhattan has the lowest average vacancy rate, at 10.7 percent. Chicago's office vacancy is still highest, at 16.4 percent.
After almost two years, the health crisis' after-effects are still at play, with urban markets continuing to experience the brunt of the impact. San Francisco's North and South Financial District submarkets saw an uptick in vacancy, reaching 15 and 16 percent in June. Vacancy in the SoMa office submarket reached 16.7 percent, an increase of 170 basis points month-over-month.
Primary and secondary suburban markets saw an increase in leasing activity. Palo Alto's office vacancy, for example, dropped by 280 basis points month-over-month, to 14.4 percent. Fremont also experienced a significant drop, reaching 6.9 percent in June, down 160 basis points from the previous month.
Demand for high-quality office space, especially for tech tenants, started to have more of an impact, with vacancy for Class A properties moving down a notch, to 14.3 percent.