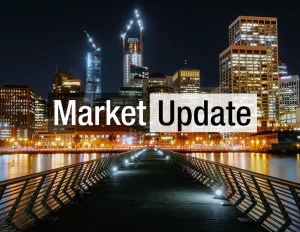 As of October, the San Francisco-Peninsula market had 7.4 million square feet under construction, representing 3.9 percent of total stock, according to CommercialEdge data. The figure increased by 14.4 percent year-over-year. The city is focused on revitalizing its economy, with the fate of existing downtown office space facing an uncertain path to recovery. However, tech and life science development has only seen growing interest, with many such projects underway.
A total of 2.9 million square feet broke ground over the 10 months through October in San Francisco, almost triple the amount recorded last year over the same period (1 million square feet across six properties), highlighting the rebound. The amount also exceeds the 2.2 million square feet that broke ground over the first 10 months of 2019.
In the SoMa submarket—which had 1.3 million square feet underway as of October—construction work was finished on SKS Partners' 133,427-square-foot office at 1 De Haro St. The four-story building uses cross-laminated timber (CLT) as a main building material, which has seen a surge of interest from developers. Earlier this year, California legislators changed height restrictions for mass timber buildings, which can now be constructed up to 18 stories.
In South San Francisco, BioMed Realty is wrapping up construction work at the second phase of its Gateway of Pacific development. The 441,000-square-foot building is the second to come online within what is planned to be a 2.2 million-square-foot campus aimed for biotechnology users. South San Francisco has seen a flurry of such developments take shape—the submarket had 2.7 million square feet underway in October, all of it intended for life science tenants. BioMed Realty is also planning an expansion across the Bay, in Emeryville.
Meanwhile, the Bay Area—comprising the East and South Bay—had 7 million square feet of office space under construction as of October, 31.7 percent higher year-over-year. Construction starts in the market totaled 1.3 million square feet, as 8 properties broke ground in the 10 months through October, almost double the amount (727,000 square feet) recorded in 2020 over the same period.
In the Berkeley-West submarket, Lane Partners broke ground on its Berkeley Commons development, a two-building research and development campus located at 600 Addison St. Plans call for two buildings totaling over 500,000 square feet, which are expected to come online in 2023.
Massive projects are underway in San Jose's CBD—such as Adobe's 700,000-square-foot office tower, or Jay Paul Co.'s 966,000-square-foot development. Other pockets of significant activity include Santa Clara (over 1.2 million square feet underway), Mountain View-Shoreline (773,600 square feet) and the Sunnyvale-West (424,195 square feet) submarkets.
CommercialEdge covers 8M+ property records in the United States. View the latest CommercialEdge national monthly office report here.