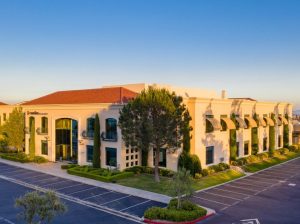 Samuelson & Fetter LLC has landed a new tenant at Monrovia Technology Campus, a 155,000-square-foot office property in Monrovia, Calif.
Terray Therapeutics Inc., a biotechnology company signed a 49,017-square-foot lease. Avison Young represented the tenant in the deal, while Colliers worked on behalf of the owner.
Completed in 2002, the Monrovia Technology Campus spans 8.8 acres and comprises two Class A buildings with 118,174 square feet of office space and 36,826 square feet of laboratory space, as well as 461 parking spots. Cacique and Children's Oncology Group are among the property's tenants.
Terray Therapeutics will relocate from Alexandria Innovation Center in Pasadena, Calif., and occupy 37,823 square feet of lab space at the beginning of next year, and 11,194 square feet of office space in August.
Located at 750 & 800 Royal Oaks Drive, the office property is within half a mile of several dining options along Huntington Drive and within a mile of Mountain Vista Plaza, as well as other retail options, including Target and 7-Eleven. Interstate 210 is one mile away from the property.
Principal Ted Simpson of Avison Young and Senior Executive Vice President Shadd Walker of Colliers worked on the transaction.
Office vacancy improves in LA
Despite slow leasing activity, the metro's full-service listing rates are among the highest in the nation, with the average reaching $41.66 as of May, the latest CommercialEdge report shows.
The average vacancy rate improved in the San Gabriel Valley submarket, nearing 8.9 percent as of May, marking a month-over-month drop of 60 basis points. Office vacancy across the metro reached 13.0 percent last month, and remains lower than in other major markets such as Miami, Chicago, San Francisco and Manhattan, according to the same data provider.