By Scott Baltic, Contributing Editor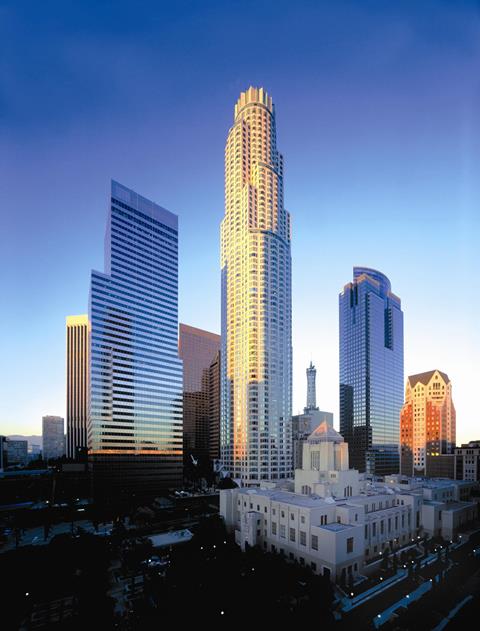 The newly announced purchase of L.A.'s iconic U.S. Bank Tower, the tallest building in California, is not only a major transaction in itself, at $367.5 million, but also a deal that could send some reverberations through the downtown Los Angeles office market.
In the sale, announced just yesterday, Overseas Union Enterprise Ltd., of Singapore, through its wholly-owned U.S. subsidiary Beringia Central L.L.C., will purchase the building, along with related properties Maguire Gardens and the Westlawn Garage parking facility, from current owner Library Square Associates L.L.C, a subsidiary of MPG Office Trust Inc. According to MPG's 8-K filing, the transaction is scheduled to close on June 28.
The 72-story, 1.4-million-square-foot Class A office property, at 633 W. Fifth St., was completed in 1989. Besides its name tenant, US Bank Tower hosts law firms White & Case L.L.P. and Barger & Wolen L.L.P, an OUE spokesperson told Commercial Property Executive.
Overall, however, the tower is only about 56 percent occupied currently, and therein lies a tale involving yet another law firm. The OUE spokesperson noted that the building has been unstabilized in recent years, and Jones Lang LaSalle managing director Tony Morales told CPE why. The signal event, he said, was when law firm Latham & Watkins L.L.P., which occupied 250,000 square feet, downsized about two years ago and moved into another building owned by MPG Office Trust.
(As of the fourth quarter, L.A. CBD Class A office space had 0.1 percent YTD negative net absorption and a total vacancy rate of 16.3 percent, according to figures from JLL. The average asking rent was $37.89.)
The building has a few negatives that inhibit potential tenants, Morales added, such as curved floorplates that are just a little bit harder to work with and some concerns about its becoming the target of a terrorist attack, because of its height.
More tactically, Morales said, US Bank Tower's debt is maturing in July, and MPG has been "financially challenged" since the Latham & Watkins move. He estimates, however, that the building's sale will net MPG roughly $100 million, enough to at least provide some options with regard to its other key downtown L.A. towers, the KPMG Tower and 777 Tower, one or both of which, according to local rumor, the REIT is likely to liquidate.
At about $260 per square foot, OUE did well with US Bank Tower, Morales said. "It's a good value on price per pound," though ultimately that will depend on how quickly the Singaporeans can lease the building back up.
The OUE spokesperson would say only that the company "has the financial strength to make appropriate capital expenditures" on the tower. Morales noted local speculation, based on OUE's history in the hospitality industry, that the new owner might convert about half of the building into a hotel.
Finally, Morales discussed JLL's research on how concentrated ownership of Class A office space appears to affect landlord pricing control in seven major U.S. cities. As of November 2012, Los Angeles had the greatest such concentration of ownership, with the top three landlords controlling more than 63 percent of the Class A inventory and MPG Office Trust owning 35 percent of the Los Angeles CBD Class A inventory.
That percentage is now going to be slashed, of course, and Morales predicts that the fragmentation of ownership of the CBD's Class A office space will put more downward pressure on rents.
MPG's share of downtown L.A.'s top office space has been on a downward trend for some time.
In late December, MPG announced that it had sold its remaining 20 percent ownership interest in MPG Beacon Venture L.L.C. to an affiliate of its joint venture partner, Beacon Capital Partners L.L.C. The JV owns the 991,000-square-foot One California Plaza in downtown L.A., and Cerritos Corporate Center, in Cerritos, Calif.
And in October 2012, MPG announced that a trustee sale had been held with respect to the 54-story, 1.3-million-square-foot Two California Plaza. In December 2010, the REIT had said it planned to default on the building's $470 million mortgage.