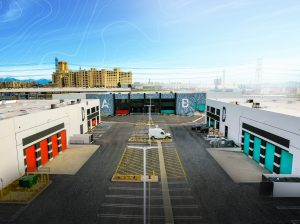 Rexford Industrial has acquired The Box Yard, a creative industrial business park in the East Los Angeles submarket, for $93.6 million. Bridge Industrial, formerly known as Bridge Development Partners, was the seller. The Class A property was 94 percent leased at the time of sale. A team of Newmark brokers represented Bridge Industrial.
The acquisition of The Box Yard is the largest of the five completed by Rexford in June for an aggregate purchase price of $188.9 million, as the company sought to increase its Southern California infill portfolio. The acquisitions were funded using a combination of cash-on-hand and previously executed equity offerings.
The Box Yard traded at $363 per square foot, well above the average $183 recorded in May across the Los Angeles market, CommercialEdge data shows, but relatively on par with prices within the East Los Angeles submarket, which saw three sales completed this year for an average of $335 per square foot.
According to CommercialEdge, the property last traded in January 2019, when Bridge Industrial acquired it for $68 million from Atlas Capital Group.
---
READ ALSO: E-Commerce Continues Driving Industrial Growth
---
Property characteristics
The Box Yard totals 261,528 square feet across four buildings and is situated at 2425-2535 E. 12th St. Constructed in 1988, the property underwent a capital improvement program in 2019. In order to appeal to technology and creative tenants, Bridge Industrial invested about $4 million in renovations over the course of nine months. 
Interior improvements included new office finishes, new lighting and staircases, skylights, LED lighting and upgrades to air circulation. The exterior saw the addition of new paint, improved signage and landscaping, lighting and various enhancements to the parking areas and site security.
The property features 24-foot clear heights, dock- and grade-level loading doors, and is a food-grade warehouse with refrigerated storage capabilities. Additionally, The Box Yard includes a two-level office component. Turn-key mezzanine office suites of 5,000 square feet are available, while the ground-level suites range from 3,000 to 5,000 square feet. Amenities include private offices and conference rooms.
The Box Yard is within walking distance of the Arts District and less than a mile south of Interstate 10. The surrounding area is home to multiple retail destinations. According to Newmark, five new leases were signed at The Box Yard in the past six months. Tenants include Textile Alliance Group, Dailylook and 2NE1 Apparel, among others.
High demand for Southern California infill
In a prepared statement, Rexford Industrial Co-CEOs Howard Schwimmer and Michael Frankel noted that the unprecedented tenant demand for such space continues to intensify due to post-pandemic economic resurgence and e-commerce related impacts that "disproportionately benefit our last-mile Southern California industrial market."
In June, the company added four other properties to its infill portfolio, located in the South Bay, San Fernando Valley—where Rexford recently signed a 124,000-square-foot lease with Quixote Studios—and Santa Clarita submarkets. Based on CommercialEdge data, Rexford owns more than 22 million square feet of industrial space within the Los Angeles metro.
Southern California continues to be a coveted industrial market, with some of the highest rent growth and low vacancy rates in the U.S., the latest CommercialEdge report shows. As of May, the Inland Empire experienced an 8.2 percent year-over-year increase in rent growth, while Los Angeles saw a rise of 7.3 percent. Vacancies inched down to 2 percent in the Inland Empire and 4 percent in Los Angeles.