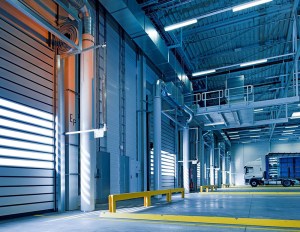 Realterm has closed its Realterm Logistics Fund IV after raising $630 million in commitments. RLV IV is the fourth fund in the firm's closed-end, value-add Realterm Logistics Fund Series and the 11th closed by Realterm overall.
As with its predecessor funds, RLF IV invests in high flow-through (HFT) logistics real estate throughout across the country. Realterm, based in Annapolis, Md., closed Realterm Logistics Fund III at $370 million in May 2020.
Realterm launched fundraising for RLF IV in late 2021 and held the fund's final closing at the beginning of August as reaching its contractual hard cap of $630 million. The fund's controlled investment pipeline sits at about $500 million in gross investment value.
---
READ ALSO: Is Flexible Warehousing the Next Step for Industrial?
---
Peter Lesburg, Realterm managing director of capital markets, said in prepared remarks that institutional appetite for HFT logistics real estate remains strong. Lesburg said the company has seen strong institutional support from existing partners across its family of funds and has also welcomed several new investors into the fund series. From inception, the RLF series has invested $1.3 billion across nearly 115 HFT assets, generating top quartile returns upon realization of each of the first two funds.
Located in and around major population centers, primary distribution hubs and along major freight corridors, HFT properties facilitate the movement, not the storage, of freight through the nation's supply chain. Property types include cross-dock truck terminals, transload and related trans-shipment, final mile delivery facilities, industrial outdoor storage and parcel sortation, among others.
In January, Realterm sold its 22-property Realterm Logistics Fund II, a 1.8 million-square-foot national portfolio that spans 200.4 acres and included eight last-mile warehouses and nine truck terminal/transload properties. The majority (52 percent) of the assets were located in the New York-New Jersey industrial market, while Los Angeles had about 24 percent of the portfolio by rent. The company had closed on Logistics Fund II at its hard cap of $240 million in early 2017.
Recent Realterm deals
Earlier this summer, Realterm expanded its last-mile portfolio with the acquisition of a newly upgraded warehouse in the Dallas-Fort Worth metro. The company purchased the 186,344-square-foot facility that was triple-net-leased to Amazon from Oxford Properties Group.
In June, the firm completed the disposition of 20 last-mile facilities across 17 markets, selling the portfolio to Biynah Industrial Partners. In the same month, Realterm also picked up a 34,288-square-foot distribution center in Baltimore, followed by the acquisition of a 71,835-square-foot warehouse in Brockton, Mass.
Earlier this year, Realterm acquired two distribution facilities in Blauvelt, N.Y., a New York City suburb. The properties are long-term leased to Amazon and AERCO International.