By Barbra Murray, Contributing Editor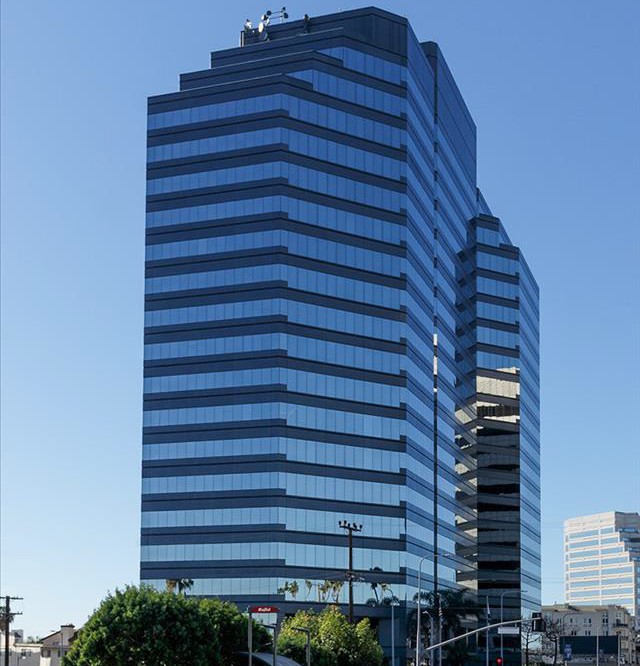 Los Angeles—In January 2015, visiting officials of the State of Qatar told the U.S. Chamber of Commerce that the country would invest $35 billion in the U.S. over the next five years, and it continues to do just that, with its latest investment being Qatari Investment Authority's acquisition of the office tower at 12100 Wilshire Blvd. in Los Angeles. QIA, the sovereign wealth fund of Qatar, and joint venture partner Douglas Emmett Inc. recently acquired the 365,000-square-foot property, located in the prestigious Brentwood submarket, from Hines for $225 million.
It appears the transaction took place in a time warp. Hines U.S. Office Value Added Fund II also paid $225 million for 12100 Wilshire when it acquired the Class A property from RREEF Property Trust in 2007.
12100 Wilshire first opened its doors in 1985, rising 19 stories above the busy and highly desirable intersection of Wilshire and Bundy Drive. Today the Tracy Price Associates-designed office destination is facing a drop in occupancy to 77 percent with impending move-outs. However, the disappearance of names from the tenant roster spells opportunity for QIA and Douglas Emmett; the $51.06 per square foot average direct asking rent for class A space in Bentwood in the second quarter was roughly $9 more than rent for premier space downtown and $11 more than Class A space in Greater Los Angeles, according to a report by commercial real estate services firm JLL. Additionally, as of the close of the second quarter, there were no deliveries in Brentwood year to date, and there were no construction projects underway.
The 12100 transaction marks just one of many real estate moves QIA has made since opening its first U.S. office in New York City in September 2015. The SWF partnered with Douglas Emmett in March on the $1.4 billion purchase of a 1.7 million-square-foot office portfolio in the Westwood area of Los Angeles. And in October of last year, QIA entered into a joint venture with Brookfield Property Partners on the mixed-use Manhattan West, acquiring a 44 percent stake in the 7 million-square-foot New York City development in a deal valuing the project at $8.6 billion upon its completion and stabilization.
QIA has also recently made notable investments through Qatari Diar, its wholly owned subsidiary. Earlier this month, Tishman Speyer announced that Qatari Diar had become its partner in the $700 million construction of a 1.1 million-square-foot office and retail project in Long Island City, N.Y. And in June, Qatari Diar and Hines kicked off construction of the 360-key Conrad Washington, D.C. luxury hotel, which carries a development price tag of approximately $250 million.
QIA, however, isn't the only Middle Eastern SWF combing the U.S. for premier real estate opportunities. "Given that Gulf State currencies are pegged to the U.S. Dollar, the U.S. real estate market will benefit from increased SWF focus on real estate," Fadi Moussalli, head of JLL's International Capital Group in MENA, noted in a JLL publication in June. "Middle East SWFs are less transparent, making asset allocation hard to predict, but we expect them to weight up to 10 percent of the investment pool to real estate."
In May, Bahrain Mumtalakat Holding Co., the investment arm of the Kingdom of Bahrain, announced a new partnership with Regent Properties in which Mumtalakat acquired an interest in an existing Southwestern portfolio of predominantly office assets valued at $250 million. In late 2015, a subsidiary of the Abu Dhabi Investment Authority and Canada's Public Sector Pension Investment Board completed the purchase of a 58 million-square-foot U.S. industrial portfolio in a $3.2 billion deal. And the transactions just keep on coming.