By Scott Baltic, Contributing Editor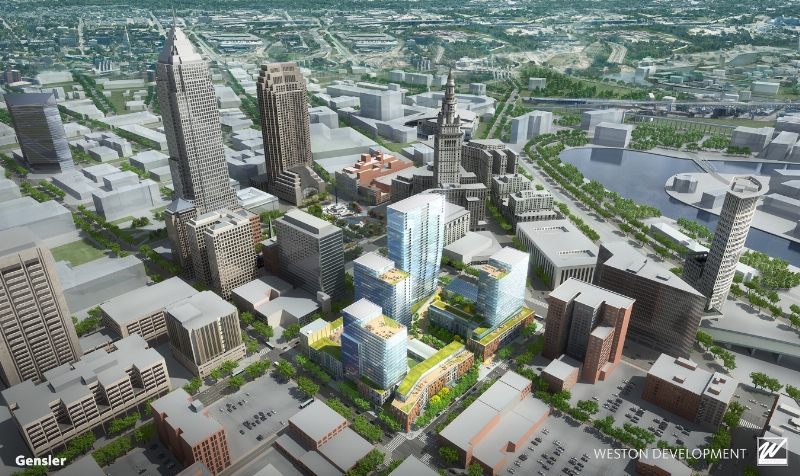 About five acres of parking lots in the western part of downtown Cleveland has been proposed for transformation into a "brand new walkable neighborhood with luxury apartments, retail, restaurants, green space, and high-end modern amenities," as announced Friday by Weston Inc. and Citymark Capital, the proposed project's developers.
The site runs from Superior Avenue to St. Clair Avenue and from West 3rd Street to West 6th Street. Its north-northeast corner is cater-corner to the Justice Center and police headquarters, and its south-southeast corner is cater-corner to the Renaissance Hotel Cleveland.
The master plan reportedly totals 3 million square feet, including 1,200 residential units with high-end amenities, about 100,000 square feet of retail, green space and covered garage parking. The first phase (of four) is to include 352 units, 22,000 square feet of retail and 390 parking spaces. The developers hope to break ground on it by next spring and have the residential units ready for occupancy by summer 2017.
Gensler has been tapped for the project's architecture and design, and Gilbane will be the general contractor.
Crain's Cleveland Business reported that the developers are in discussions with the city's planning commission about zoning changes that would be needed to let the project move ahead. CCB also reported that the project will be anchored by four high-rises of 23 to 30 stories, along with a series of eight-story buildings and first-floor retail around most of the perimeter.
"This is one of the best urban development sites in America," Citymark founder Daniel Walsh said in a prepared statement. "To have five acres of contiguous and essentially vacant land, literally right next to a city center, is unheard of."
"There was a missing piece right in the heart of our phenomenal city, but now, we finally have the piece that will tie the city together," added Weston CEO T.J. Asher.
New multifamily development in Cleveland has been focused downtown and in University Circle, with about one-third of new units going into downtown, according to a fourth-quarter report from Marcus & Millichap. Despite the completion of more than 1,150 new units in the metro area this year, vacancy will remain very low (about 3.4 percent) as net absorption continues to outrun deliveries.
The metro area's highest rents, naturally, are in the Central Cleveland submarket, but better yet (for landlords), rents there are up 5.6 percent year over year.