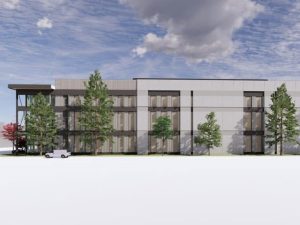 A new hyperscale datacenter is planned to come online in central Los Angeles. Prime Data Centers has announced it will construct a 33-megawatt facility in Vernon, in what is its first foray into Southern California.
Prime Data Centers acquired a 4.5-acre parcel—currently occupied by an industrial building—for the development. JLL Managing Director Darren Eades worked on behalf of the developer for the acquisition, and helped to secure electrical power from the City of Vernon.
Prime aims to build a three-story, 261,000-square foot data center, as well as a 49.5 MVA dedicated substation on the parcel. The carrier-neutral facility will feature several types of redundancies to its power distribution and cooling systems. Data halls will measure 50,000 square feet per floor. The developer is also targeting LEED certification, and is planning to bring the facility online by the end of 2023.
JLL's Darren Eades told Commercial Property Executive that "recent activity by the major cloud providers has driven the demand for newly built data center space in Southern California." Prime Data Centers is currently in discussions with several potential tenants, Eades said, with JLL working with the developer to bring in strategic tenants at the upcoming property.
Proximity to major telecommunication hubs
Prime's Vernon data center will be less than 5 miles from several major interconnection hubs: One Wilshire—which earlier this year received a $389 million refinancing package—along with facilities at 600 W. Seventh St., 530 W. Sixth St., 900 N. Alameda and 818 W. Seventh St. The location also provides connectivity to hundreds of carriers, as well as the potential to activate wholesale dark fiber at premium costs.
According to JLL research, Southern California has experienced an increase in demand for data infrastructure over the past few quarters. But with Los Angeles' inventory so limited, developers will most likely be looking to buy up more land for new projects, as well as upgrade existing infrastructure. At the end of last year, Los Angeles had 30 megawatts planned for construction, according to the same source, while net absorption clocked in at 13 megawatts.
Prime's first development in Southern California comes on the heels of several other expansion announcements in other markets. Last year, the company announced its first expansion outside California—a 750,000-square-foot development in Elk Grove Village, Ill., estimated to cost $1 billion.