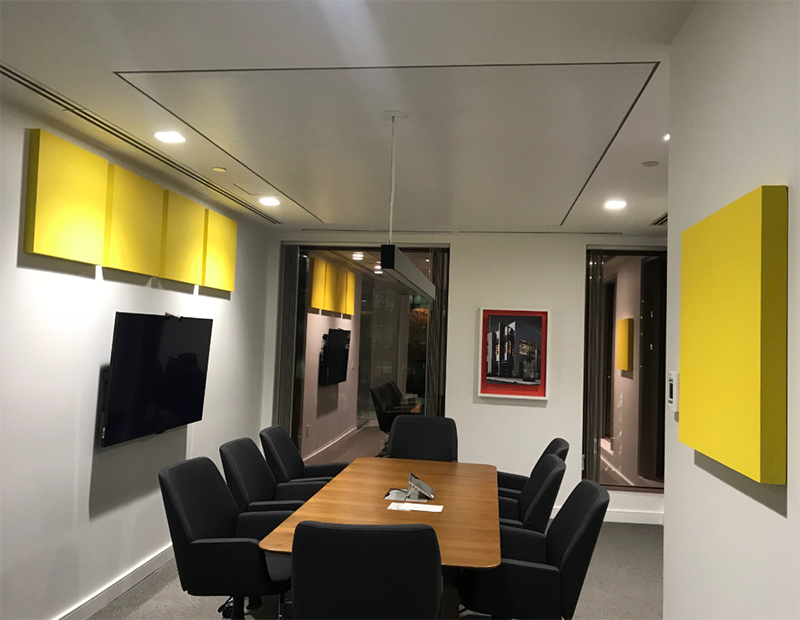 British Columbia-based Primacoustic, a division of Radial Engineering, has expanded its line of paintable acoustic panels that can absorb sounds in commercial buildings. The Paintables line of latex-covered panels are available in various models and sizes and can be custom spray-painted or printed on to blend in with the decor and color scheme of a commercial facility, such as an office. The products are designed to provide balanced absorption at all frequencies.
Any standard latex paint can be used to decorate the panels, and the job can be performed either commercially or as a DIY project using a spray gun and air compressor. High-resolution graphics, including logos and photos, can also be printed onto the face of the panel, without affecting acoustic performance.
Product lines include the Broadway sound absorption panels, the London series of room kits, Saturna ceiling baffles, and various models of acoustic cloud panels. The company has recently added to its Paintables line by introducing the Broadway 48 x 48-inch Broadband, which can replace multiple smaller panels.
Noise reverberation has become a salient issue in the workplace, especially with open office designs.