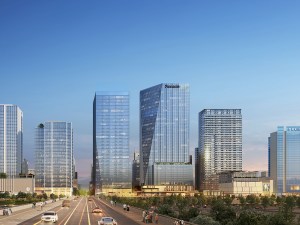 Pinnacle Financial Partners is upgrading to a brand-new building in its hometown of Nashville. The company will relocate its headquarters to 95,000 square feet in a planned office tower at Nashville Yards, Southwest Value Partners' $1 billion, 5 million-square-foot, mixed-use development downtown.
---
READ ALSO: Office Tenants Embrace Hybrid Work Era
---
"We are a rapidly growing company and are moving into a new building that can better accommodate our workforce and our plans for future growth," Rob McCabe, chairman, Pinnacle Financial Partners, told Commercial Property Executive. "Nashville Yards is an exciting new development that is helping revitalize and expand downtown Nashville's business district. We are Nashville's bank and a downtown company, so that is where we want and need to be."
Pinnacle will be leaving its current home of more than a decade, The Pinnacle at Symphony Place at 150 Third Ave. in the SoBro neighborhood, where the company occupies 90,000 square feet. Pinnacle's name will soon grace that of Nashville Yards' first multi-tenant office tower, a 650,000-square-foot building less than a mile away with the address of 201 Platform South. A trapezoid-shaped structure, the new office property will feature such extras as 28,000 square feet of retail space and boast the recently completed Grand Hyatt Nashville and Amazon's two office buildings as neighbors within the 18-acre mixed-use destination. The 34-story high-rise will also hold the distinction of hosting the highest occupiable floor in the City of Nashville.
Pinnacle's footprint at Nashville Yards will extend beyond its position as an anchor tenant with its name in lights. The company will also lease 10,000 square feet of retail space for its branch office. Additionally, Pinnacle will launch its new all-digital office concept within Amazon's two neighboring office towers.
Name(s) on the tenant roster
Pinnacle may not be the only company to make an early commitment to Nashville Yards' 201 Platform for very long. While Nashville suffered the same pandemic-related downturn as other office markets across the U.S., the city is rebounding. Office leasing momentum has gone on the upswing quarter-over-quarter, particularly downtown, where positive net absorption totaled approximately 334,000 square feet in the first quarter of 2021, according to a report by CBRE.
"As companies continue to consider expanding or relocating into Nashville, leasing and investment activity should continue to trend positively over the coming quarters," according to the CBRE report. "As market conditions continue to improve and more occupiers solidify their workplace strategies, pent-up demand should help absorb new and existing office supply." Southwest Value is on schedule to break ground on Nashville Yards' 201 Platform in the fourth quarter of 2021.