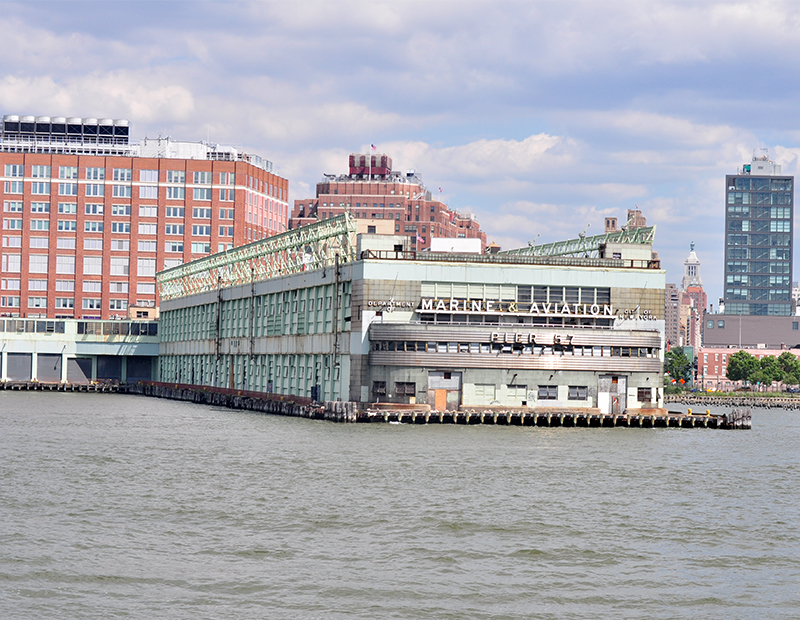 RXR Realty and Youngwoo & Associates, owners of Manhattan's Pier 57 for about a decade now, have refinanced the unique Hudson Riverfront asset for $375 million.
The 10-year balance sheet loan reportedly was provided by Nuveen Real Estate, with $50 million specified for wrapping up renovation of the historic property before the end of the year. Ackman-Ziff is said to have arranged the financing.
Google is the primary office tenant of the asset, which totals 633,000 square feet. The pier features a 115,000-square-foot rooftop and even has 74 parking spaces in one of the three giant concrete caissons that support the structure. A planned adjacent marina will accommodate motor and sailboats, as well as a kayaking concession open to the public. The site is just a block from the High Line and at the edge of the hot Meatpacking District.
Neither RXR, Youngwoo, Nuveen nor Ackman-Ziff replied to Commercial Property Executive's requests for additional information.
Hot times, then and now
Pier 57 was completed in December 1954, replacing an earlier, conventional wooden pier that had been destroyed in a multi-day fire in the fall of 1947. In 1955, the pier's designers won the Gold Medal in Engineering from the Architectural League of New York for their innovative design, in which the pier's caissons support most of the structure's weight. The pier was added to the National Register of Historic Places in 2004.
After years of serving as a cargo terminal for Grace Line, Pier 57 was from 1971 till 2003 the home of the city transit authority's Hudson Pier Bus Depot, then largely unused after that. Whether on land or on the water, the Meatpacking District and environs are very active for commercial real estate.
In late January, a Vornado-backed joint venture completed the $167.5 million refinancing of 61 Ninth Ave., a 170,000-square-foot Class A office building. The property had been fully preleased to Aetna.