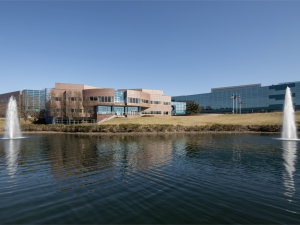 The University of Pennsylvania's Gene Therapy Program has signed a lease for more than 150,000 square feet of lab space at Discovery Labs' Innovation 411 campus in King of Prussia, Pa.
---
READ ALSO: The Life Science Industry's Transformation
---
The program will use the space "for a portion of its expanding research operations focused on the development of genetic medicines for rare and orphan diseases, as well as acquired and pandemic infectious diseases, such as COVID-19," the lessor said in a prepared statement.
The multi-year lease makes Penn's Gene Therapy Program an anchor tenant for Discovery Labs' growing 7 million-square-foot life sciences cluster in King of Prussia. The deal encompasses space in two buildings in the 1 million-square-foot Innovation 411 campus on Swedeland Road.
Penn Medicine joins GSK, WuXi Biologics and the Center for Breakthrough Medicines at the biotech campus.
Innovation 411 is adjacent to Discovery Labs' 700,000-square-foot Innovation Renaissance campus, which is anchored by such leading health-care entities as Thomas Jefferson University Health, Children's Hospital of Philadelphia, Amerisource Bergen/World Courier and Tosoh Biosciences.
Discovery Labs was represented in the transaction by its own Joe Corcoran, senior vice president, and Julian O'Neill, director of marketing. The University of Pennsylvania was represented by Colliers Executive VP Joe Fetterman.
Campuses and clusters
Discovery Labs in King of Prussia originated when MLP Ventures, formerly O'Neill Properties, in 2018 acquired two sizable assets: GlaxoSmithKline's 1 million-square-foot former Upper Merion West campus for about $52 million and the nearby 640,000-square-foot Liberty Property Trust office portfolio, for nearly $80 million. The latter was rebranded as Innovation Renaissance.
More recently, Discovery Labs purchased the 660,000-square-foot former Philadelphia Inquirer printing plant, almost adjacent to the other two campuses. Renamed as Innovation 800, it will be renovated into life sciences research and manufacturing space.
In a recent report, Converging for Cures, Colliers identified The Discovery Labs as being located within one of eight significant life science neighborhoods in metro Philadelphia.
The Upper Merion submarket, Colliers notes, has been a pharma hub since the 1950s. In addition to Discovery Labs' trio of properties there, Brandywine Realty Trust is looking into developing a lab building about 2 miles away, at 650 Park Ave., King of Prussia, according to Colliers.