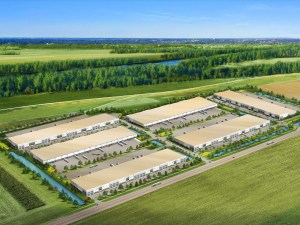 PCCP LLC and TriStar Properties are teaming up again on an industrial park project in the St. Louis metro by forming a joint venture to develop six speculative buildings totaling 1.3 million square feet of space in Maryland Heights, Mo.
---
READ ALSO: CRG Launches 2nd US Logistics Fund
---
Westport Commerce Center, a fully entitled project, will be built on 137 acres the joint venture recently acquired to construct six, single-loaded warehouse buildings each ranging in size from 194,615 square feet to 252,720 square feet. The six buildings will feature 185-foot combined truck court and trailer parking, 32-foot clear heights, ESRF sprinklers, LED lighting and a rear-load design.
Construction will be built in phases. Development of the first phase has begun with two buildings of 194,615 square feet each. They are expected to deliver by the spring of 2022. The next phase will be determined as leasing activity occurs for the first phase.
Matt Towerman, executive vice president & principal with TriStar, said in a prepared statement the partners concluded Westport's ideal location would fill a void for last-mile distribution in the St. Louis metro area. The site is located within the central St. Louis County industrial submarket at the intersection of St. Louis and St. Charles counties, providing proximity to most of the metropolitan area's population. The project is also a short drive from the intersection of Highway 364 and Maryland Heights Expressway (Highway 141), which provides connectivity to Interstates 70 and 270.
Dorian Farhang, PCCP vice president, said in a prepared statement this is the sixth joint venture between PCCP and TriStar. The previous five projects, totaling 5.2 million square feet, have all been developed in the Metro East submarket of St. Louis. Farhang said each of those projects had out-performed initial underwriting and they expect Westport Commerce Center to meet the demand for newly built industrial facilities in the area.
PCCP and TriStar's previous partnership was for the development of industrial buildings at the Gateway Commerce Center in Edwardsville, Ill. In June 2018, the firms announced the development of two facilities totaling 2 million square feet for World Wide Technology. One of the partners' early projects at Gateway was Gateway 717, a 717,000-square-foot speculative warehouse later leased to Amazon. In addition to Amazon and WWT, Gateway's tenants include P&G, Unilever and Geodis Logistics.
More PCCP Projects
In May, a joint venture of PCCP and Panattoni Development Co. Inc. said it planned to develop a speculative 526,400-square-foot Class A industrial warehouse on a 46-acre site in Cartersville, Ga. Slated for completion in June 2022, Bartow Commerce Center Building III will be located in the Bartow Commerce Center in the Atlanta market and is the third facility the partners have developed at the site.
PCCP and Panattoni are also developing a speculative industrial development in Hagerstown, Md., where they will build a 730,880-square-foot Class A warehouse at a newly purchased 90-acre site. Creekside Logistics Center, located off Interstate 81 and near Interstate 70, is expected to be completed by December.