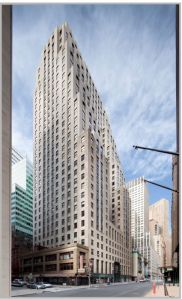 A joint venture of Broad Street Development and Invesco Real Estate has refinanced 80 Broad St., a 36-story, 423,777-square-foot office high-rise in Lower Manhattan's Financial District.
Real estate finance and investment management firm PCCP LLC, provided the loan to the joint venture but did not release the amount. The Commercial Observer reported the refinancing was for $150 million.
---
READ ALSO: How Office REITs Are Signaling Better Days Ahead
---
An Eastdil Secured team led by Ken Ziebelman, Grant Frankel and Ethan Pond advised and negotiated the debt.
Broad Street Development, a New York City-based privately held real estate developer, investor and operator, has owned and self-managed the property since 2014, when it acquired the tower from Savanna for $173 million. Savanna had owned the asset since September 2011. Savanna paid for the tower with a $65.3 million loan that also included money for significant capital improvements. In one of the top Manhattan office sales of 2017, Invesco acquired a 95 percent interest in the property for $173 million. Invesco and BSD completed a $235 million recapitalization of the property soon after Invesco acquired the majority stake.
The partners have since invested more than $9 million in capital improvements, including renovating the lobby, hallways and restrooms, building out speculative suites and upgrading the HVAC. More upgrades are either being planned or in progress, including additional speculative buildouts, elevator modernization and upgrades to corridors and restrooms.
Brian Haber, vice president at PCCP, said in a prepared statement the building is historically well leased and well-positioned to attract tenants as the New York City office market recovers. He called it a "compelling opportunity to refinance with an experienced operator and repeat PCCP borrower."
Current tenants include the New York State Supreme Court Officers Association, Indus Architects, The Fulcrum Group, Adams Unlimited and Leaflink, an e-commerce cannabis platform that recently doubled its space to 26,000 square feet. There are still 15 available spaces for lease in the building, totaling 92,230 square feet, according to CommercialEdge.
Building details
The Art Deco office tower was built in 1931 and has 12,385 square feet of ground-floor and lower-level retail space with all ground-floor retail on Broad Street. The asset offers 8,000 to 16,500 square feet of open floorplates, which provide tenants with flexibility for customized buildouts. Other features include 11-foot ceilings and large windows for substantial light and air. Several floors include private terraces with views of the Manhattan skyline and New York Harbor.
The property is close to nine subway lines within a 3-minute walk. Grand Central Station and Penn Station are also easily accessible and provide connectivity throughout Manhattan and the region. The Financial District is now a live-work-play area with diverse tenants, including tech and media companies. The area has also seen an increase in residential developments and growth in the number of bars, restaurants and hotels.