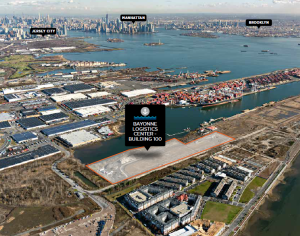 Lincoln Equities Group and PCCP have landed acquisition and construction financing for the latest project within their New Jersey warehouse and distribution center. Brookfield provided a $107.4 million loan to the partnership to construct Building 100 of Bayonne Logistics Center.
Cushman & Wakefield's John Alascio, Chuck Kohaut, TJ Sullivan, Zachary Kraft, Gary Gabriel and Kyle Schmidt represented Lincoln Equities and PCCP. Alascio and Kraft told Commercial Property Executive that the loan has a two-year construction term.
---
READ ALSO: The Big Pivot: How Wharton Equity Made the Switch to Industrial
---
Building 100 is expected to break ground in the first quarter of 2022, Alascio and Kraft also told CPE, for an expected completion in October 2022. The partnership will construct the 332,640-square-foot industrial complex on a 45.4-acre site.
"Various tenants who are interested in the property may ultimately end up changing the scope of the building prior to completion," Alascio and Kraft told CPE. "But when we were marketing the space, we were showing 66 dock-high trailer doors and two drive-in ramps, as well as 40-foot clear heights."
Building 100 will also benefit from Bayonne Logistics Center's prime location with direct access to Route 440, which connects to Routes 1 and 9 as well as Interstate 78. The property will also be located 800 feet from Bayonne's Global Container Marine Terminal and have direct access to the Hudson River and Newark Bay. According to Lincoln Equities, the industrial property is ideally suited for e-commerce and same-day delivery providers for the New York City metro market.
Transforming the Military Ocean Terminal
Building 100 will be Lincoln Equities' latest project as part of its overall Bayonne Logistics Center that will total four buildings. The company initially agreed to acquire the former 90-acre waterfront site of Military Ocean Terminal from Highstar Capital in April 2018. Lincoln Equities had plans to redevelop the site into a complex that would offer 1.6 million square feet of industrial space.
North of Bayonne, Lincoln Equities also partnered with PCCP to acquire another industrial property within reach of the New York City metro area in April. The partners purchased a three-building portfolio totaling 260,855 square feet in Valley Cottage, N.Y.