By Gail Kalinoski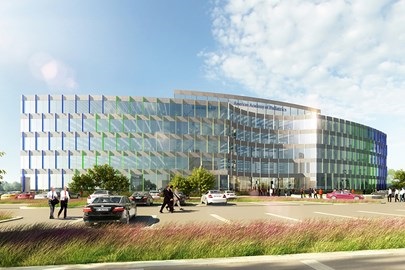 Chicago—The Opus Group will begin construction next month on a new build-to-suit, 183,000-square-foot office building that will serve as the national headquarters for the American Academy of Pediatrics in Itasca, Ill.
The professional organization that serves about 64,000 pediatricians will be leaving its longtime home in Elk Grove Village, Ill., for the new state-of-the-art, five-story building on 11.15 acres in the Hamilton Lakes Business Park. Once completed in fall 2017, the building will be home to about 480 employees and have room for additional growth, an important factor to the AAP.
JLL worked with Opus on vetting several sites before AAP purchased the Itasca property.
"We were happy to assist AAP and JLL in the site selection process for AAP's new world-class headquarters," Bryan Farquhar, senior manager, real estate development, Opus Development Co., said in a prepared statement. "Many important factors go into site selection and we're confident that the location they ultimately selected will provide for an easy transition and will serve the company well into the future."
Opus Design Build LLC will be the design builder and VOA Associates, now a part of Stantec, will be the architect of record. Opus Development Co. provided development support services and Eric Kunkel and Scott Ohlander of JLL represented AAP in the transaction.
AAP will put its current property up for sale and Kunkel of JLL is also handling that transaction for the organization, Crain's Chicago Business reported.
Dr. Karen Remley, AAP executive director & CEO, said the new headquarters will serve multiple functions for its members and the staff.
"The Opus team listens to our needs and vision for the building and works hand in hand with us to translate those ideas into a new home for our organization," she said in prepared remarks.
The building will feature 10-foot floor-to-ceiling windows with colored vertical exterior fins to reduce solar head gain, and a two-story dual entrance lobby serving as the main entrance and a central hub for AAP's conference center and visitor activity. Workspaces will be tailored for each department. The office will have areas for educational training, video recording of practice procedures and demonstrations, conferences, outdoor meetings and historical archival storage and display with documents dating back decades to show the legacy of pediatrics throughout the eras.
When AAP announced last March that it was going to build a new headquarters, the organization said in an in-house news magazine that a task force had looked at expanding the current building but concluded it would be too expensive to modernize it. The task force recommended building a new headquarters to best meet the current and future needs of members, programs and staff. The new location is 10 minutes from the current headquarters and about 12 miles from O'Hare International Airport.
Crain's noted the headquarters will be the largest build-to-suit project in the Chicago northwest suburbs in recent years and one of several for medical groups. The American Academy of Orthopaedic Surgeons recently moved into a 165,000-square-foot building in Rosemont, Ill., and the American Society of Anesthesiologists moved to a 70,000-square-foot facility in Schaumburg, Ill.
Opus has worked on more than 60 client direct services projects throughout the United State in the past two years, including remodels, tenant improvements and new construction projects across sectors. In March, The Opus Group and AEW Capital Management announced the groundbreaking of a 452,000-square-foot speculative industrial warehouse in North Aurora, Ill. The property is being developed for one of AEW's institutional separate account clients.
The Opus Group is a family of commercial real estate development, construction and design companies headquartered in Minneapolis with offices and projects throughout the U.S. It includes Opus Development Co., Opus Design Build and Opus AE Group LLC.