Optimistic Outlook Predicted for Industrial Sector
Robust demand will keep the pipeline flowing for several more years, according to CommercialEdge.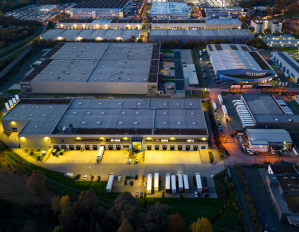 Amid rising interest rates, economic volatility and uncertainty, slowing e-commerce sales growth and Amazon's postponed expansion plans, the industrial sector is still in good shape going into 2023, according to the latest CommercialEdge monthly industrial report. Although some of the largest players in the sector have taken a cautious approach to the new development pipeline and leasing, deliveries are expected to remain at an all-time high up until 2024.
---
READ ALSO: Is Industrial's Boom Era Ending?
---
Nationwide, the under-construction pipeline included 713.6 million square feet of industrial space at the end of October, representing 4.0 percent of existing stock. According to CommercialEdge, factoring in planned projects pushes the rate of incoming supply to 7.8 percent of existing stock. What's more, the active pipeline is expected to further expand—despite Amazon's pullback—thanks to thriving shipping and logistics activity, as well as a rise in chip manufacturing.
As of October, the markets with the largest pipelines on a percentage of existing stock basis were Phoenix (46.6 million square feet under construction, 15.6 percent of stock), Dallas (66.7 million, 7.8 percent) and Indianapolis (24.2 million, 7.4 percent). At the same time, industrial sales volume year-to-date as of October totaled $71.9 billion.
Port markets continue to outperform
National in-place rents for industrial space continued to climb, averaging $6.95 per square foot at the end of October, CommercialEdge data shows. Average rents increased by 620 basis points year-over-year and seven cents month-over-month. Port markets continued to lead the nation in terms of rent growth, with the Inland Empire (11.6 percent increase), Los Angeles (9.7 percent) and Boston (8.9 percent) recording the steepest gains.
The national industrial vacancy rate was 4.0 percent in October, a 10-basis-point decrease from the previous month. Although vacancy rates are typically lowest in port markets, non-port markets with significant logistics activity also posted low vacancies; Rates fell below the three percent mark in Nashville (1.4 percent), Columbus (1.6 percent), Atlanta (2.3 percent), Indianapolis (2.5 percent) and Kansas City (2.7 percent).
Read the full CommercialEdge report.