By Gail Kalinoski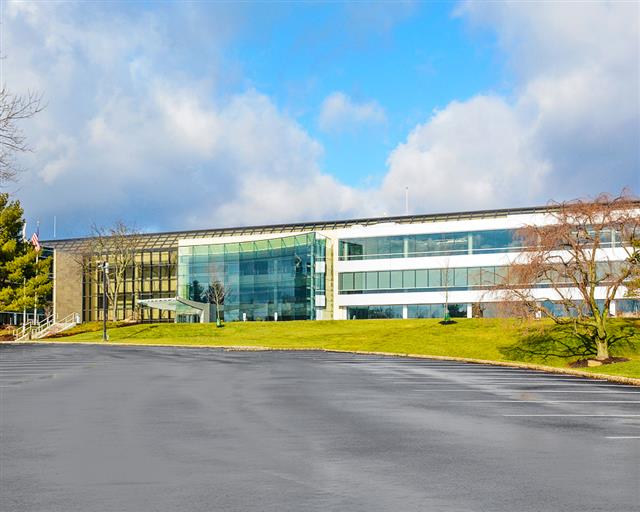 In separate transactions, Onyx Equities, a private value-add real estate investment firm, and its joint venture partners have sold two office properties in New Jersey, including one in Basking Ridge, N.J., that underwent a $40 million repositioning.
Woodbridge, N.J.-based Onyx Equities and Rubenstein Partners sold 211 Mount Airy Road in Basking Ridge, a 307,000-square-foot suburban office property, for a reported $98.5 million. The sellers did not disclose the name of the buyer, but the Wall Street Journal reported Norfolk, Va.-based Harbor Group International paid $98.5 million for the asset.
Onyx and Russo Development sold 1 Turnpike Plaza on Route 9 in Woodbridge, a 205,000-square-foot Class A office tower formerly known as Hess Building. Neither the sales price nor the buyer were released but it is believed to have been acquired by the New Jersey Turnpike Authority, which executed a full-building lease with Onyx and Russo soon after they bought the property in November 2015 for $14 million from the Hess Corp.
"We were recently dubbed value drivers in the industry and in furtherance of that moniker, the sales today yielded a 2.2 and 2.4 equity multiple, respectively," D.J. Venn, senior vice president of asset management for Onyx, said in a prepared statement. "We are proud to have made an impact on these assets during our ownership and feel that we left them better than they were found. Many were not willing to take on the challenges initially posed by these properties. We specialize in finding that hidden value and team members who can bring it to fruition."
The 14-story 1 Turnpike Plaza is located at the crossroads of Route 9 and the New Jersey Turnpike in Woodbridge. The property was constructed in 1970 and renovated in 2012. The Hess Corp. had its headquarters at the building, which used to have a giant green Hess sign atop it, until it put the property up for sale after leaving the retail gas and oil refinery businesses.
Suburban office improvements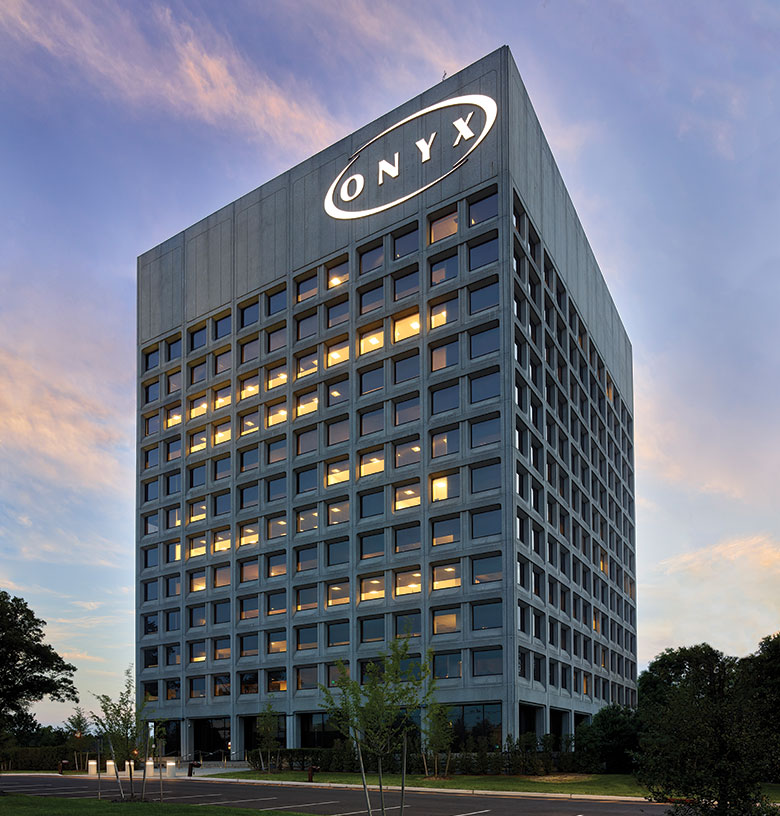 The Basking Ridge property was built in 1981 and had only cosmetic renovations until Onyx and Philadelphia-based Rubenstein acquired it in October 2013. The building underwent "Onyx's signature redevelopment program, including a new facade and upgraded amenity package." Other improvements included a renovated lobby, 127-seat auditorium, cafeteria and fitness center. Last year, the partners leased the building to Japanese pharmaceutical company Daiichi Sankyo Inc. for its U. S. headquarters. The firm recently completed the move into the building after transferring employees from offices in Edison, N.J., and Parsippany, N.J.
A year ago, Onyx was a buyer not a seller, as it continued expanding its New Jersey office portfolio with the purchase of Country Club Plaza in Paramus, N.J. Onyx teamed up with Garrison Investment Group to acquire the 300,260-square-foot property that has two office buildings at 115 and 117 W. Century Road, also known as Country Club Campus Plaza I and II. Onyx executives said last August they planned to renovate the buildings to boost leasing.
One Turnpike Plaza image courtesy of Onyx Equities, 211 Mount Airy Road image courtesy of Yardi Matrix