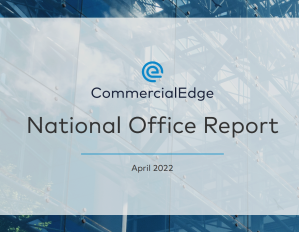 New office starts across the nation amounted to a little more than 63 million square feet in 2021, a significant decrease from the 86.4 million square feet recorded in 2019, but a slight bounce back from the 58.4 million square feet in 2020. According to the latest CommercialEdge office report, Austin (5.3 million square feet) and Dallas (4.5 million) recorded most office groundbreakings last year, followed by life sciences-centric markets: The Bay Area (3.8 million square feet of starts) and San Francisco (3.1 million) led the way in this sense, despite an accelerated rate of domestic and business out-migration.
---
READ ALSO: The Sun Belt's Surging Office Market 
---
Some 144.7 million square feet of office space was under construction across the nation at the end of March, with half of the active pipeline located in urban submarkets. With more than 10 million square feet of office space underway, Austin ranked first in terms of under construction pipeline. Meanwhile, construction activity in other markets that had recorded significant pre-pandemic gains has started to cool. Denver speaks to this trend, adding 16.1 million square feet of new office stock—accounting for 8.5 percent of the market's inventory—between 2015 and 2021. However, its current pipeline includes only 1.3 million square feet and an additional 4.4 million square feet in the planning stages.
National average full-service equivalent listing rates averaged $38.65 per square foot at the end of March, down 260 basis points year-over-year but 3 cents more than in February. The national office vacancy rate clocked in at 15.9 percent in March, 30 basis points higher on a year-over-year basis and 20 basis points up from the previous month. Gateway markets saw the highest office vacancies since the start of the pandemic, with San Francisco recording a 380-basis-point increase year-over-year.
The office-using sector added 134,000 new jobs in March, up 4.9 percent year-over-year. Office-using employment continued its uneven trajectory: Of the 50 top markets covered by CommercialEdge, 17 markets had fewer office-using employees than in February 2020. Meanwhile, two Texas markets led the way in office-using employment recovery: Dallas had 104,000 more workers than it did before the pandemic—a 9.7 percent increase—followed by Austin, with 56,000 more office jobs, accounting for a 17.6 percent increase.
Read the full CommercialEdge office report.