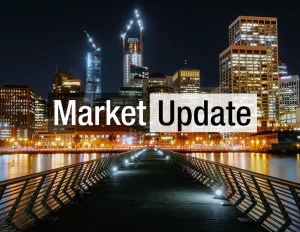 Office investment activity in the San Francisco-Peninsula market has slowed down in the first quarter. According to CommercialEdge data, some $515 million in office sales were recorded through the first quarter of 2022, down 9.6 percent compared to the previous quarter and 58.9 percent less year-over-year.
---
READ ALSO: SHVO Selects Foster + Partners for $250M Transamerica Pyramid Overhaul
---
On a national level, office buildings sold for $280 per square foot during the first quarter, while San Francisco remained well above most markets. Buildings in the metro sold on average for $776, an increase of 41 percent since the previous quarter. Only Manhattan was more expensive, at $921 per square foot.
A total of 10 properties traded during the first quarter, comprising roughly 662,000 square feet. The largest transaction of the quarter was the $164.5 million acquisition by DivcoWest of 5000 Shoreline Court in South San Francisco. Johnson & Johnson sold the 138,400-square-foot asset at roughly $1,189 per square foot. The new owner plans to redevelop the space for lab use.
Another significant deal occurred in the Potrero Hill submarket. A joint venture of Lincoln Property Co. and Korea Asset Investment Management paid $118 million for the 127,100-square foot office building, occupied by the San Francisco District Attorney's Office. In a separate, simultaneous deal, PRP Real Estate Investment Management also sold the fee simple ownership to Safehold Inc. for $64.6 million.
Bay Area Among Top Metros for Total Sales
First quarter office sales in the Bay Area—comprising the East and South Bay—market amounted to over $1 billion, exceeding most metros tracked by CommercialEdge. However, deals seem to have slowed down on this side of the Bay as well, as the amount is still significantly less than the previous quarter (over $2.2 billion).
More than 2 million square feet of office space changed hands in the market during the first quarter. On average, properties traded for $522 per square foot. The price increased by 16.5 percent since the previous quarter, highlighting a rebound. However, the average was below what was recorded over the same period last year ($752 per square foot).
The largest transaction of the quarter was the $446 million sale of 3301-3307 Hillview Ave. in Palo Alto. Alexandria Real Estate Equities continued its buying spree in January with the four buildings within Stanford Research Park in Palo Alto, comprising over 292,000 square feet.
CommercialEdge covers 8M+ property records in the United States. View the latest CommercialEdge national monthly office report here.