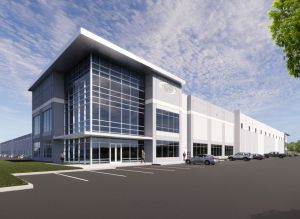 TGS Cedar Port Industrial Park, the largest master-planned, rail-and-barge-served industrial park in the U.S. at over 15,000 acres in Baytown, Texas, will soon provide more leasing options now that work has commenced on two spec buildings.
The park's developer, TGS Cedar Port Partners LP, has already broken ground on TGS Cedar Port DC2 and TGS Cedar Port DC3, premier warehouses that will add a total of approximately 646,400 square feet to the Houston-area market.
---
READ ALSO: While Supply Chain Slows, Logistics Real Estate Moves Fast: Report
---
Located roughly 25 miles west of downtown Houston, TGS Cedar Port began its evolution in 2014 when Trans-Global Solutions Inc. established a partnership to acquire Cedar Port Industrial Park. With desirable access to major thoroughfares, the Port of Houston, air transportation, rail lines and a pipeline distribution system, the park also holds the distinction of being one of the world's largest intermodal logistics facilities.
Powers Brown Architecture is behind the design of the park's newest additions. TGS Cedar Port DC 2 will feature approximately 496,400 square feet at 4407 E. Grand Parkway S.; although, the warehouse will be expandable to as large as roughly 917,200 square feet. TGS Cedar Port DC 2 will take shape along Nita Way and will be expandable from an original 150,000 square feet to as large as 600,000 square feet.
The developer has already ordered steel and roof materials for both facilities, paving the way for TGS Cedar Port DC 2 to reach completion in the second quarter of 2022, and TGS Cedar Port DC 3 to deliver a few months later in the third quarter. E.E. Reed Construction LP is aboard the project as general contractor.
Presently, TGS Cedar Port has a remaining 10,000 acres available for lease, sale and build-to-suits, as well as 20 million square feet of existing or under-development industrial facilities. Projects in the works include the 1.2 million-square-foot TGS Cedar Port DC 1, Houston's largest spec industrial building, which broke ground in September 2021. NAI Partners' John Simons, Gray Gilbert and Chris Haro are serving as the leasing agents for all three Cedar Port DC facilities.
Big delivery on the way
With TGS Cedar Port DC 2 and 3, along with TGS Cedar Port DC 1, all scheduled for delivery in 2022, more than 1.8 million square feet of speculative space will hit the Baytown area of Houston's industrial market within a period of just months. And all signs indicate that the market will be able to handle it.
"The third quarter of 2021 marks the second consecutive quarter in over three years that demand for industrial space, 11.6 million square feet, outpaced supply, 6 million square feet, in the Houston metro," according to a report by NAI Partners.
Looking at the bigger picture, the third quarter marked 49 consecutive quarters, the equivalent of more than 12 years, of overall positive net absorption in the Houston industrial sector. As noted in the NAI Partners report, "The significant absorption taking place throughout the Greater Houston market is easing the amount of supply created by over 50 million square feet delivered in 2019 and 2020." And thanks to robust leasing fueled by e-commerce and consumer goods, the vacancy rate in Houston continues to trickle downward.