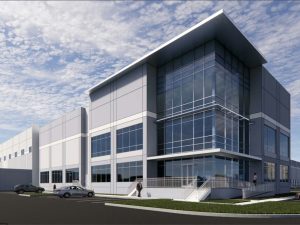 TGS Cedar Port Partners LP has broken ground on Houston market's largest speculative industrial warehouse, a 1.2 million-square-foot facility at the multi-modal TGS Cedar Port Industrial Park in Baytown, Texas.
The building pad and first slab pour is complete and the warehouse is expected to be completed by the second quarter of 2022. TGS has kept 100 percent equity in the project and partnered with Bank of Texas on construction financing.
Powers Brown Architecture is also part of the project and E.E. Reed Construction LP is the general contractor. John Simons, Gray Gilbert and Chris Haro with NAI Partners are acting as leasing agents.
Largest of its type
The distribution building will be located at 6363 FM 1405 and will include a 5,000-square-foot spec office space to allow a tenant to quickly move into the space. The cross-dock warehouse will feature a 40-foot clear height, 8-inch minimum slab, ring road around the entire building and truck court, LED warehouse lighting, ESFR sprinkler system, oversized truck courts and ample parking for cars and trailer storage.
Situated on a 73-acre site, the building will be able to accommodate more than 1,000 trailer parking spaces and 1,000 car parking spaces. Additional land will offer the opportunity for a fully fenced area for more trailer parking, car parking and outside storage.
The site offers access to State Highway 99 (Grand Parkway), Interstate 10, state highways 225 and 146 and the Port of Houston's Bayport and Barbours Cut container terminals. The TGS Cedar Port industrial park spans approximately 15,000 acres and is the largest master-planned, rail-and-barge-served industrial park in the U.S. The park is served by both the Union Pacific and BNSF railroads. Industry leaders including Walmart, Floor & Décor, IKEA, Home Depot, Niagara Bottling, Webstaurant, Ravago and Vinmar all have major distribution and fulfillment centers in TGS Cedar Port Industrial Park.
The park can accommodate developments from 5 acres to more than 1,500 acres and currently has more than 18 million square feet of industrial and manufacturing warehouses that are either existing or under construction.
In September, Hunt Southwest Real Estate Development said it had begun construction on a 1 million-square-foot facility, at that time the largest speculative industrial building to be developed in the Greater Houston Area, in the park. At that time the slab had been fully poured and the steel structure was being erected and slated for a March 2021 delivery. Powers Brown Architecture and E.E. Reed Construction LP were also working on that project.
TGS Cedar Port—located in the Houston Industrial sector's Southeast submarket, which has been one of the fastest growing in Texas during the past six years—is the largest intermodal transportation logistics facilities in the world, according to NAI Partners.