By Keith Loria, Contributing Editor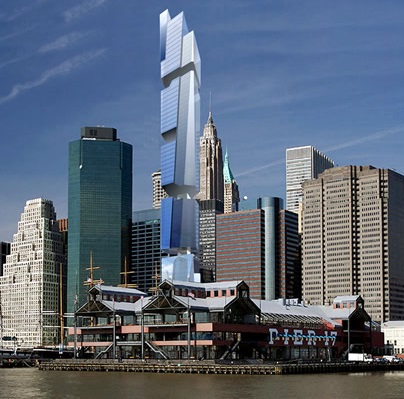 New York—China Oceanwide Holdings has acquired 80 South St., a planned 113-story tower in New York City's Seaport District, from the Howard Hughes Corp. (HHC), for $390 million.
"We are pleased to be welcoming our friends at China Oceanwide to the neighborhood and excited about the impact their building will have on the Seaport District," David Weinreb, HHC CEO, said in a prepared statement. "This transaction is another sign that the Seaport District, with its unmatched views and distinct sense of place, is gaining recognition as one of the city's hot spots."
The development calls for 441,077 square feet of residential space and 376,707 square feet for hotel, office or retail use.
Although initially announced more than seven months ago, the deal was contingent on HHC transferring an additional 303,113 square feet of air rights to the site.
The 42,694-square-foot zoning lot adjacent to the Historic District at the Seaport is capable of supporting 817,784 square feet of fully entitled development rights.
HHC has made a big push for redevelopment in the area. Last August, it broke ground on an upscale mall at Pier 17 and soon after proposed more redevelopment at the site, including a new marina and a mixed-use 50-story hotel and apartment tower.
With the deal, HHC expects to recognize a pre-tax gain of approximately $140 million during the quarter ended March 31, 2016. HHC originally brought the site for $100 million in 2014.
The Seaport District is located on New York City's East River in Lower Manhattan and offers unparalleled views of the Brooklyn Bridge, Statue of Liberty and the city's iconic skyline. With the redevelopment, HHC is planning to make it a top destination for unique culinary, fashion, entertainment and cultural experiences.
Rendering courtesy of Morali Architects