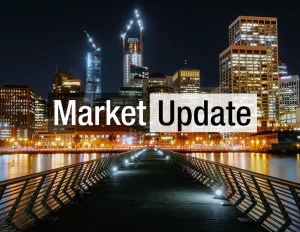 As of November, Manhattan's office vacancy climbed to 11.6 percent and was 170 basis points higher than at the same point last year, according to CommercialEdge.
The borough lost its dominant position among gateway markets with the lowest vacancy—maintained roughly since mid-2020—Boston taking the lead with a 10.6 percent rate. Miami (12.5 percent) is also closing in on the metro, followed by Los Angeles (12.7 percent) and San Francisco (14.8 percent). The gateway cities that registered the highest vacancies were Washington, D.C., Seattle (16.5 percent) and Chicago (19.0 percent).
Manhattan's average asking rate fell 2.6 percent year-over-year, reaching $83.50 in November. The month was scattered with several significant lease signings, including Microsoft's 150,000-square-foot commitment at 122 Fifth Ave., in the Flatiron District. The tech giant expanded its New York City footprint, which amounted to 200,000 square feet prior to the deal. The 300,000-square-foot boutique office building is currently undergoing substantial renovation.
Biggest November leases
Vornado Realty Trust chalked up the largest lease of the month, at Penn 2: Madison Square Garden Entertainment Corp. signed up for 428,000 square feet. The 31-story tower will be renovated as part of the multi-million redevelopment of the Penn District, with completion set for 2023. MSG Entertainment, which signed a 20-year agreement, will relocated its corporate headquarters to the refurbished building.
Additionally, The Olayan Group inked a 240,000-square-foot lease at New York City's youngest landmark at 550 Madison Ave. Property and casualty insurance company Chubb will anchor the The Philip Johnson-designed trophy tower. The 1980s tower has recently undergone significant renovations and is now aiming to achieve LEED Platinum certification.
The submarkets with the lowest vacancy were East Village (4.3 percent), Hudson Square (4.7 percent), World Trade Center (7.2 percent) and Chelsea (8.9 percent). Some of the highest rates were recorded in Times Square – Hell's Kitchen (13.3 percent), Financial District (12.5 percent), the Plaza District (12.3 percent) and Soho (12.1 percent).
CommercialEdge covers 8M+ property records in the United States. View the latest CommercialEdge national monthly office report here.