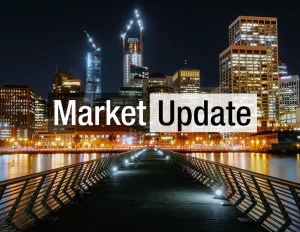 In July, three office properties totaling roughly 251,000 square feet changed hands in Manhattan, at a combined price of $282 million, according to CommercialEdge data. Dollar investment volume shrunk month-over-month by 43 percent.
On a year-to-date basis through July, $2.4 billion traded within the metro, at an average of $1,191 per square foot, surpassing by far any other U.S. market in terms of relative sales price. The numbers reflect a significant drop in investment activity during 2021, compared to the same period last year: by the end of July 2020, the volume had already reached nearly $4 billion, at an average price of $793 per square foot.
At the end of July 2020, San Francisco was the most expensive market in the country, with an average sales price of $1,127 per square foot. Through the first seven months of 2021, Manhattan jumped to the pole position, hitting $1,192 per square foot and surpassing any other metro by far.
The trade of a mixed-use, office and retail property at 576 Fifth Ave. in the Diamond District was one of the notable deals which closed in July. An undisclosed buyer paid $101 million—or 1,286 per square foot—for the 78,600-square-foot asset. Built in 1907, the 12-story mid-rise comprises three retail stories.
In July a number of big Manhattan players traded stakes in office properties, including Vornado Realty Trust's 45 percent interest buy of One Park Avenue. Following the closing of the deal, Vornado became the sole owner of the 943,000-square-foot mid-rise in Midtown. Canada Pension Plan Investment Board sold its stake at a price that values the property at $875 million.
In another Midtown deal, SL Green Realty sold a 49 percent stake in its 220 E. 42nd St. tower—known as Daily News Building—for $790 million, keeping the remaining majority interest. New York City's largest office landlord purchased the 37-story landmarked high-rise in 2003.
CommercialEdge covers 8M+ property records in the United States. View the latest CommercialEdge national monthly office report here.