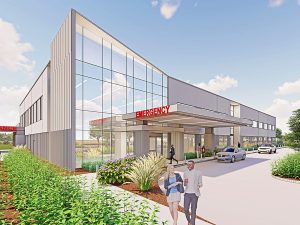 NexCore Group has partnered with CHRISTUS Southeast Texas Health System to develop the Gisela Houseman Medical Campus in Orange, Texas. The joint venture intends to break ground on the project's first phase, a two-story, 55,000-square-foot medical office building, this January. Opening is slated for 2023.
Upon its completion, GHMC will fill the health-care services gap that resulted from the closure of Baptist Hospital Orange in 2017. Planned services and amenities include an emergency department and imaging and diagnostic services, as well as primary care and specialty care clinics, among others.
A phased development
The 20-acre development site is at the southeast corner of Interstate 10E and State Highway 62, on the 250-acre Eagle Point property developed by the Houseman Cos. in partnership with the City of Orange Economic Development Corporation and City Council. Houseman Cos. donated the parcel for GHMC in 2019, according to Beaumont Enterprise. The same publication noted that the project is being built in phases due to the pandemic-driven rise in material and constructions costs.
The first phase will take shape on a 5.5-acre parcel located some 6 miles northwest of downtown Orange. CHRISTUS will occupy most of the building's first floor. The health-care provider will use the space for a 24/7 emergency hospital as well as for other outpatient and diagnostic services. The remainder will be leased to independent physicians, including Dr. Marty Rutledge of Orange Medical Surgical Associates, one of the project's key participants.
NexCore Chief Development Officer Todd Varney said in prepared remarks that the Orange Economic Development Corp. will provide the site with the necessary infrastructure, while the county and city of Orange will offer a reduction in property taxes. The tax abatement agreement covers a total of 10 years, according to Orange City Council records.
NexCore in Texas
GHMC is not NexCore's only Texas development. In August 2020, the firm started construction on a 110,374-square-foot medical office project in the Houston suburb of Cypress, in partnership with a group of physician investors. The four-story professional building came online on the HCA Houston Healthcare North Cypress campus.
NexCore's Lone Star State footprint grew further in August 2021, following a $463 million deal. In a joint venture with Nuveen Real Estate, the firm acquired a 27-property health-care portfolio spanning 13 states from IRA Capital. The partnership's Texas assets also include South Boerne MOB in Boerne and Hillcroft Medical Center in Sugar Land.