New York's office market has been through a difficult two years due to the COVID-19 pandemic, but it appears the real estate sector is positioned relatively well for the future. According to industry experts, there are signs throughout Manhattan that leasing activity, construction volume and investment sales for office buildings are all poised to surge in 2022.
Positive momentum for leasing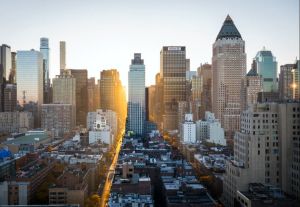 JLL Chairman & President Peter Riguardi said leasing activity was brisk this year for the top half of Manhattan's office market. Rental rates have increased in the city's trophy buildings and other Class A and premium spaces, but they have been flat elsewhere.
Although many real estate industry players are still trying to determine the full impact of COVID-19 on the city's office market, Riguardi said it's led to a substantial flight of occupants across industries to Manhattan's better office buildings.
"People are willing to pay up for space in buildings that are highly amenitized, offer fresh air and maintain a high standard of health and wellness," Riguardi told CPE. Meanwhile, Manhattan's older office buildings face the most challenges of all the city's office product, and they are also the properties seeing the highest vacancies.
The pandemic taught the real estate market that working from home was technologically possible and scalable, allowing industries to adjust to how people work going forward. Many in technology and back-office operations are primarily working from home, while investment bankers and traders will likely end up working in the office as much as they did before the pandemic.
Riguardi believes 2022 will be a strong year with a high velocity of leases signed, and that will help building owners absorb a substantial amount of their vacant office space. He expects to see continued expansion of the tech industry, which was responsible for many of the largest deals in New York this year. Google, Microsoft and Verizon are among the tech firms that have completed large leases or purchases in Manhattan this year. However, by the end of year, there will still be a number of mid-range buildings that will remain vacant, Riguardi said.
Construction looks inward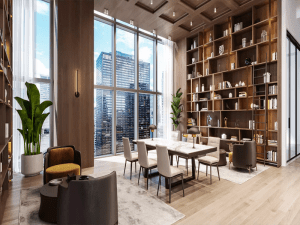 The pandemic shut down non-essential construction throughout Manhattan for 11 weeks, putting tens of thousands of construction jobs on hold. According to Carlo Scissura, president & CEO of the New York Building Congress, construction spending declined this year for the first time since 2011, with spending falling by 8.5 percent from 2019.
"In the decade prior to 2020, the construction industry was New York City's fastest-growing employment sector," Scissura said. "The 2017-2019 period before the pandemic represented one of the highest points in the market."
Scissura expects the city's office market will experience a continued decline in exterior construction and an increase in interior renovations. He attributed the shift to the renewed attention to the importance of creating welcoming and comfortable workspaces.
As of October 2021, more than 20 million square feet of office space was taking shape in Manhattan, according to CommercialEdge data. Most of the projects that broke ground this year were redevelopments or renovations of older structures, except for the 414,000-square-foot mixed-use Urban League Empowerment Center, located at 121 West 125th St.
Vocon President Tom Vecchione said building owners are reaching out to his firm and other architects to create environments where people can make serendipitous connections. Post-COVID, designing a vibrant and interesting ecosystem for a building is just as important as the construction of the property itself. Case in point: The top request from tenants is having access to outdoor space from their offices or, even better, their own outdoor space.
---
READ ALSO: Top 5 NYC Office Building Sales
---
"Tenants really want a lot of amenities, such as conference centers, lounges with food availability, outdoor spaces, modern HVAC systems they can turn on and off for fresh air," Riguardi said.
Nothing is going to take away from the long-haul power of workplaces, according to Vecchione. There will be a shift to office buildings that are curated and well positioned in terms of how people want to work in the future.
"None of my clients—both building owner and tenants—are saying the workplace is going away, it's evolving," Vecchione said. "Technology is going to come in with solutions, hybrid work patterns will evolve, and buildings will become more hospitality oriented."
Despite the focus on office building interiors, there is reason to be optimistic about the outlook for the city's construction industry. Scissura pointed to the recent passage of the federal infrastructure bill, which has unlocked major funding for infrastructure improvements and development, in addition to public works projects across the state.
"These large-scale projects will not only create jobs and stimulate the economy, but also improve New Yorkers' quality of life," Scissura said. "The incoming mayoral administration also poses a great opportunity to see renewed capital investments and a sharper concentration on New York's construction industry. "
High hopes for investment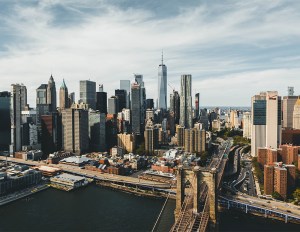 Although the 2020 investment sales market for office buildings was down, 2021 has shaped up to be quite a strong year, according to Darcy Stacom, chairman & head of New York City capital markets for CBRE. The volume of office sales has decreased compared to pre-COVID figures, but there were still many deals completed.
Just three office building sales, totaling 401,350 square feet, were completed in Manhattan in September, according to CommercialEdge data. Year-to-date through September, the borough has seen $2.2 billion in office transactions, roughly one third of the $6.7 billion sold in 2019 and only half of the volume in 2020.
The office buildings that are selling are primarily those properties that are newly built, well-leased and offer a good environmental rating. The properties with a harder time attracting investor interest are typically older buildings with substantial leasing and rollover risk. "I'm not saying people won't buy it, but it'll have a much harder time in the market," Stacom said.
Aside from new construction, Eastdil Secured Managing Director Gary Phillips noted that proximity to mass transportation is another factor that makes office buildings more attractive than others to investors. "It's no secret that the submarket surrounding Grand Central should be a strong momentum market going forward," he said.
---
READ ALSO: Behind Manhattan's Largest Deal of the Year
---
Sometimes, the building itself is so unique or noteworthy that a buyer would be willing to absorb any leasing risk. CBRE recently spearheaded the $1 billion-plus sale of 441 Ninth Avenue, which was just 70 percent leased at the time of sale. "The building itself was so spectacular that the buyer had confidence, and should have confidence, that it will be rented," Stacom said.
What stood out the most in 2021 for Phillips was the diversity of asset classes that traded. There were very large deals completed that were outside the traditional office and multifamily spaces. "That is a trend that should continue for years to come," he predicted.
Buyers have also been showing interest in alternative types of office properties, such as those focused on luring tenants in the life sciences industry. Phillips, who expects to see a flurry of sales activity in 2022, saw a cluster of life science-focused office buildings forming in the city to take advantage of the city's labor market. "These innovative firms require access to New York City's unrivaled talent pool and world-class developers," he said.
Much of the demand for New York office product in the next year will come from offshore capital, experts predicted. The market is not lacking in buyers, but there might not be enough sellers of high-quality office buildings, Stacom said.
Phillips said many of the overseas investors prefer Manhattan's green office buildings and the interest is growing by the day. "Overseas investors, particularly European investors, are years ahead of us in this regard," he noted.