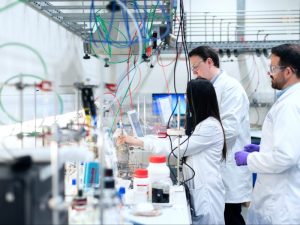 New York City is doubling down on life sciences. Mayor Bill de Blasio and the New York City Economic Development Corporation (NYCEDC) announced a plan to invest $1 billion in the booming sector over the next decade.
The investment adds $500 million to a previous $500 million commitment to LifeSci NYC initiative, a plan launched by the city in 2016 to create jobs and help make New York a leader in the life sciences arena by attracting more pharmaceutical and biotech companies.
The announcement included a request for proposals to advance the research and development of "new medicines, medical devices, diagnostics, materials and research tools," according to a press release from the NYCEDC.
Broken down, the funding will include commitments to construction ($200 million), nonprofit facilities ($300 million), funding for early stage companies ($5 million), and a support and internship program to help grow the life sciences talent pipeline ($5 million).
---
READ ALSO: Dodge Reports Surge in Construction Plans
---
The city's announcement comes as more than 170 million Americans have received at least one shot of the COVID-19 vaccine and the President and local leaders ramp up efforts to get the country fully vaccinated. Vaccine development has poured billions into the biotech space and put even more of a spotlight on life sciences. City officials tied the upgraded investment to the pandemic and the need to fund more research and development in public health.
"Doubling the initial investment of $500 million to $1 billion dollars, will ensure New York City will stay at the forefront of cutting-edge discoveries, cures and treatments," said Bronx Borough President Ruben Diaz, Jr., in a statement.
Biotech boom
The NYEDC's announcement follows notable deals and milestones from major players in the industry. Earlier this week, Boston Properties added to its sizable 4.9 million square feet of lab and office space in Massachusetts with the acquisition of two lab properties for $100 million. On the West Coast, Kilroy Realty Corp broke ground on the second phase of its 3 million-square-foot, $940 million life sciences project in South San Francisco.
New York City officials have been pushing to grow the city's life sciences industry for years. While the city is a leader in various sectors including the financial, fashion and media industries, its life sciences niche has been playing catch-up to urban rivals such as Boston, San Francisco and San Diego.
But it's not just New York City that's looking to significantly grow its life sciences industry. According to a JLL report from March that evaluated which U.S. markets were poised to emerge as the next life sciences hubs, Charlotte, N.C. topped the list, followed by the Seattle and Denver metro areas.