By Samantha Goldberg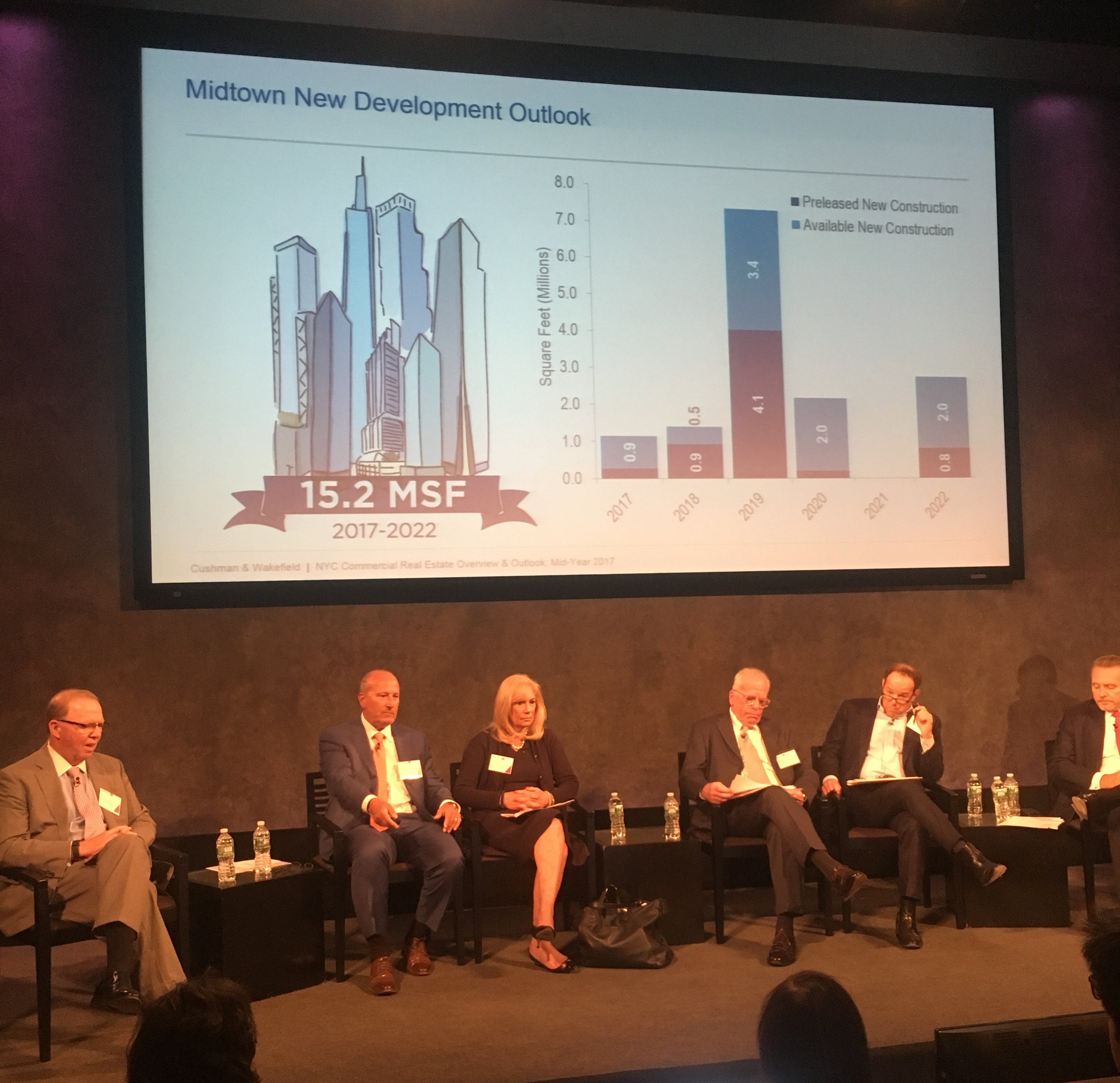 "The office market for 2017 continues to look promising…and we think we're going to finish strong. Challenges and what remains to be seen is what happens in the coming years as additional inventory comes to the market and there's continued densification in the market," noted John Santora, Cushman & Wakefield's vice chairman & president of the Tri-State Region, at the firm's mid-year 2017 outlook on the region's commercial real estate industry.
For Manhattan in particular, mid-year new leasing activity hit 15.4 million square feet, representing a 13 percent increase year-over-year and signaling that the city's office market continues to grow. The development of Hudson Yards has certainly helped the market, contributing 1.1 million square feet of the total newly leased space.
Financial services remains the dominant sector occupying office space in Manhattan, although technology, advertising, media, and information (TAMI) tenants are increasing their presence. 
Within Manhattan, Downtown "continues to be the bright spot, with five larger leases over 100,000 square feet," said Dale Schlather, executive vice chairman at Cushman & Wakefield. A notable lease was Spotify signing on to take up nearly 400,000 square feet at 4 World Trade Center.
Densification Dread
But despite a healthy office market, new construction and increased densification are putting pressure on effective rents, Schlather said. Tenants are moving from larger to smaller spaces, which is having an "impact on the market for the first time."
In the legal services sector, for example, law firms are shifting from 1,100 square feet per lawyer to 500 square feet per lawyer, which is affecting their percentage of the market. 
Office occupancy is down 13.8 million square feet from the first quarter of 2001 to the second quarter of 2017, despite the city having 120,000 more office-using jobs today. Square footage per employee over that time period has also decreased from 291 to 257.
Effective rents for Class A office in Midtown decreased 9.6 percent from 2015 to 2017, largely driven by this densification and as more tenants are choosing to make improvements to their current spaces rather than occupy new space.
"While jobs are growing, companies are using less space, and we're starting to feel that impact," Schlather said. 
Retail Changing, Not Dying
"Retail is not going away, especially in the city—it's changing," Santora noted.
Exeuctive Vice Chairman Joanne Podell echoed this sentiment, adding that retailers are learning to balance their bricks-and-mortar presence with e-commerce offerings, which "is going to make those retailers successful."
Despite many headlines about retail's demise, retail asking rents in Manhattan were up in seven of 11 markets Cushman & Wakefield tracks. Fifth Avenue between 49th and 60th streets is still seeing rental increases, showing retailers' "confidence in the street and we have some interesting new tenants coming to the street," Podell said, noting her involvement in Nike's blockbuster lease for the entire retail portion of 650 Fifth Ave.
"One can not look at retail in an encapsulated way, one has to look at it in the context of what's happening around it," she said. 
Top Demand for Industrial
 Just as retailers are refining their e-commerce and supply chain platforms, pure-e-commerce players are now also looking to bricks-and-mortar, driving industrial demand.
"Industrial is the hottest investment in the market," Santora noted. 
E-commerce leasing has represented 30 percent of total U.S. industrial leasing since 2012. In the New Jersey industrial market, it hit more than 50 percent year-to-date in 2017, according to the firm's data.
E-commerce players like Amazon occupied 10.3 million square feet of space as of 2017, while wayfair will occupy 3 million square feet as of next year in New Jersey.
"It's no longer about where the sale is made, it's about getting the product quickly and efficiently to their customers," said Stan Danzig, vice chairman, industrial at Cushman & Wakefield. 
For developers, this means larger spaces that are closer to their consumers. 
New Jersey is now the third largest industrial market in the country, with vacancy rates at a record low of 4.2 percent and asking rents at an all-time high of $7.08 per square foot.
"Access to the ports and gentrification of the boroughs have driven the industrial market to New Jersey," Danzig said, adding that there will be more than 7 million square feet of big-box development by 2019 near the Goethals Bridge, marking the first big-box development in New York City that will be attached to the New Jersey market. 
Demand for new construction is also strong, with more than 50 percent of new starts being pre-leased before they break ground or before completion.
"In New Jersey, there's just not enough Class A product to satisfy that demand, therefore its compressing cap rates and driving investors to be more aggressive" Danzig noted.
Investment Slowdown
Following a record 2015, Manhattan transaction volume fell in both the second half of 2016 and the first half of 2017.
"There is, however, a silver lining," noted Doug Harmon, chairman, capital markets at Cushman & Wakefield. "There's such a supply of worldwide capital chasing such little product that prices have remained buoyant."
While dollar volume decreased from $57.9 billion in 2016 to $16.4 billion in the first half of 2017, and the number of properties sold decreased from 4,377 to 1,877 over the same period, dollar per square foot increased from $533 to $570 in that time.
"That's an incredible thing, that means buyers have to chase sellers, as opposed to '07 to '08" when it was the opposite, Harmon said. 
Many of those buyers have been foreign investors, Harmon noted, as seven of the nine top 2016 and 2017 Manhattan office sales involved foreign capital. He added that he expects 2017 to be a flip-flop year from 2016 in that transaction activity will pick up in the second half of this year following a slow start. 
"Once they realize pricing is still at historic highs, how can you not sell?"
"Because of the tremendous capital looking to buy property in the city and the very, very short supply, that dynamic could be the thing that buoys the prices so they don't fall," added Bob Knakal, chairman, New York investment sales at Cushman & Wakefield. "And if they do fall, they're likely not to fall very much across the board simply because there hasn't been a catalytic event that has caused this downturn, this is just the natural cyclicality of the market. Either way we think this landing will be soft."