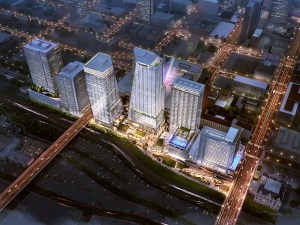 There's been a change to the entertainment portion of the program at the $1 billion Nashville Yards, the biggest development in Nashville history at a projected 5 million square feet.
Four years after Southwest Value Partners, owner and developer of the mixed-use destination, announced that Anschutz Entertainment Group would spearhead the entertainment district, the two companies have formed a joint venture to co-develop the entertainment segment of the sprawling 18-acre campus in downtown Nashville. Furthermore, the joint venture partners have reinvented the original concept for the district.
---
READ ALSO: It's Time for Borrowers and Sellers to Consider the Land Lease
---
Neither SWVP nor AEG has disclosed the particulars of the ownership of the new partnership, including whether there has been any change in the ownership of the approximately 4 acres at Nashville Yards that AEG acquired as part of the original 2017 agreement. According to Davidson County records, AEG paid Uptown Property Holdings LLC, an entity of SWVP, $44 million for the site at 910 Commerce St. in March 2018.
The partners have, however, shared news of their new and expanded vision for the entertainment complex and concert venue. In 2017, AEG announced plans for a 4,000-capacity music venue, a theatre complex, a 700-capacity live entertainment club, a 240-key hotel and a variety of food & beverage offerings. Fast-forward four years and SWVP and AEG have masterminded a 24/7 entertainment enclave.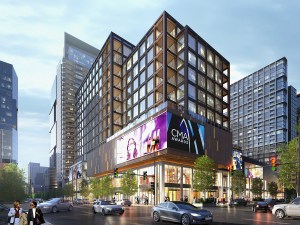 SWVP and AEG plan to maintain a 4,000-capacity, state-of-the-art live music venue as the centerpiece, along with an upscale eight-screen cinema and a heightened focus on a curated collection of food & beverage options and shopping accommodations. The entertainment complex will also feature 275,000 square feet of premier creative office space, as well as three highly amenitized residential towers and ample open space.
The announcement of the joint venture came with even more news. AEG's live-entertainment division, AEG Presents, has inked a long-term lease transaction with the new joint venture to operate the music venue at the entertainment district. SWVP had tapped CBRE to serve as property manager for Nashville Yards in July 2020. Additionally, SWVP revealed that it has purchased the ownership interest that was previously held by MGM Resorts.
Nashville's needs
At full buildout, Nashville Yards will feature approximately 3.5 million square feet of creative office space, including the home of Amazon Nashville and the 650,000-square-foot multi-tenant office tower that will become the headquarters of Pinnacle Financial Partners, more than 1,000 residential units, 400,000 square feet of retail and entertainment offerings and 1,100 hotel guestrooms, including those in the 591-key Grand Hyatt Nashville, which opened in fall 2020.
Nashville Yards is in its infancy and Nashville is making its way back from the pandemic. As noted in a report by Avison Young, Nashville ranked no. 8 in the 2021 Milken Institute Best-Performing Cities Index, which tracks the economic performance of 400 U.S. metropolitan areas, buoyed by its positively trending year-over-year job growth, five-year wage growth and high-tech GDP growth. Construction activity at the Nashville Yards entertainment district is on track to commence in early 2022.