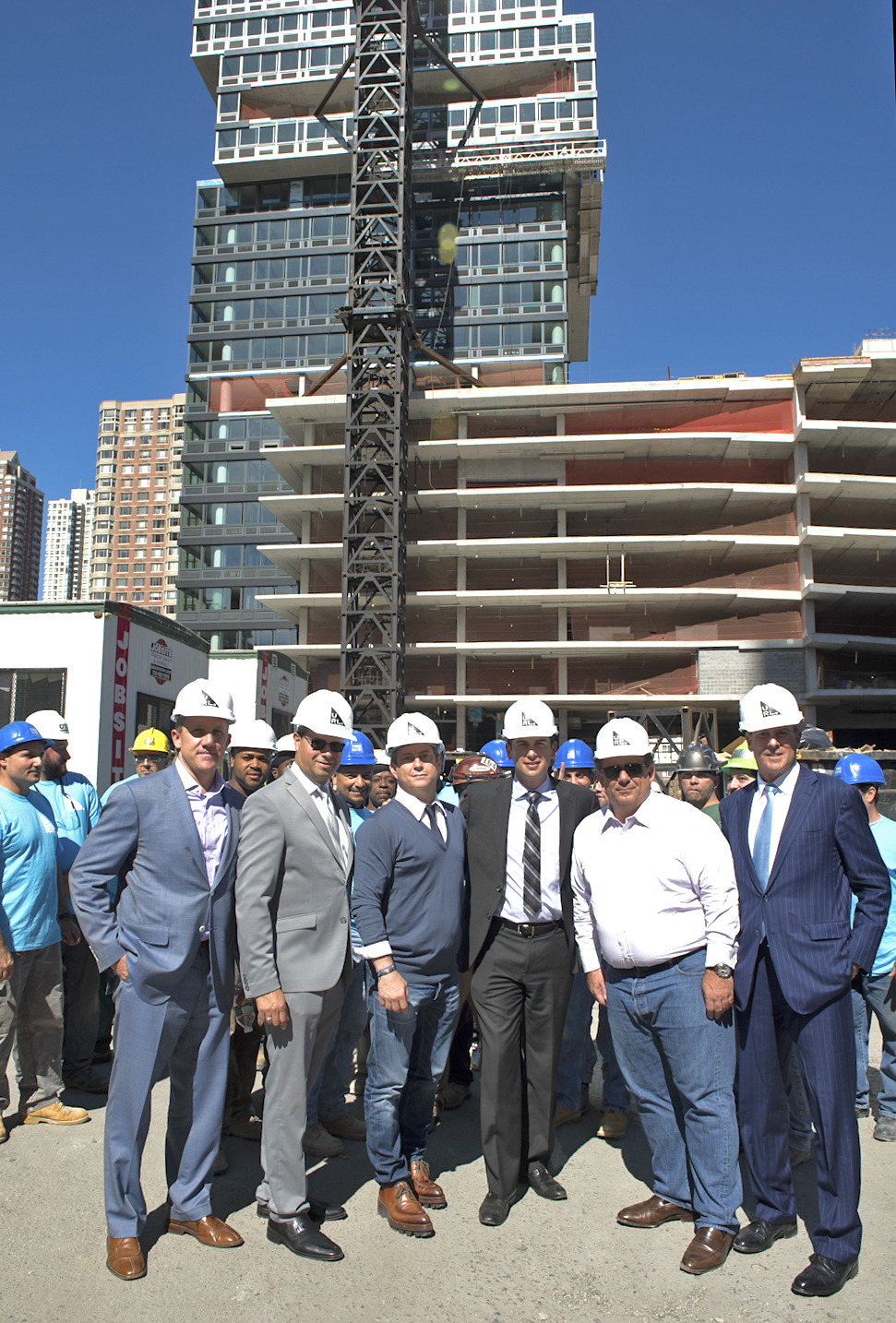 By Scott Baltic, Contributing Editor
New Jersey's tallest residential building has topped out and is on track to be open for residents by the fourth quarter of next year. Mack-Cali Realty Corp. and Ironstate Development Co., the tower's developers, made the announcement last week.
The building is the 713-foot, 69-story URL Harborside 1, the first of a planned three residential towers in Mack-Cali's Harborside mixed-use development in downtown Jersey City. When eventually completed, the towers will comprise 2,358 residences overlooking the Manhattan skyline.
The URL in the name of the 763-unit, approximately $330 million development stands for "Urban Ready Life," a concept, according to Ironstate, that aims at addressing urban challenges like commuting, a lack of green space and time pressures. The multifarious design solutions include built-in washers and dryers, layouts and clean design that "amplify the sense of light and space in every unit," free building Wi-Fi, an on-site café, bicycle storage, a "smart locker" system that accepts packages, open public spaces, and community garden plots.
The tower was designed by Dutch architecture firm Concrete. The location reportedly provides easy access to public transportation via the Exchange Place PATH station, the Hudson-Bergen Light Rail and nearby ferry.
As affordable rents continue to draw New York City workers to apartments in northern New Jersey, especially Jersey City and other parts of Hudson and Bergen counties, developers are working overtime to keep up, according to a third-quarter report from Marcus & Millichap.
Although deliveries this year reportedly will hit their quickest pace in the last decade (more than 7,900 completions), the report continues, "the effects on vacancy have been nonexistent as tenants have absorbed nearly double the amount completed during the past year."
As a result, effective rents have grown for four consecutive years, as supply still lags demand for rentals. Average effective rents are expected to rise 3 percent, to $1,955 a month, according to M&M.
Meanwhile, Ironstate is also deploying its URL concept at two other projects. One is a waterfront development in the Stapleton area of Staten Island, in the form of a project that will include, in addition to 900 units of LEED-certified housing, 30,000 square feet of ground-floor retail, 600 parking spaces and a public plaza. The other is in Stamford, Conn., where a long-vacant CBD site will become a 670-unit apartment development with an entrance café, communal working area, gym facilities, a landscaped courtyard, swimming pool and 550 parking spaces.