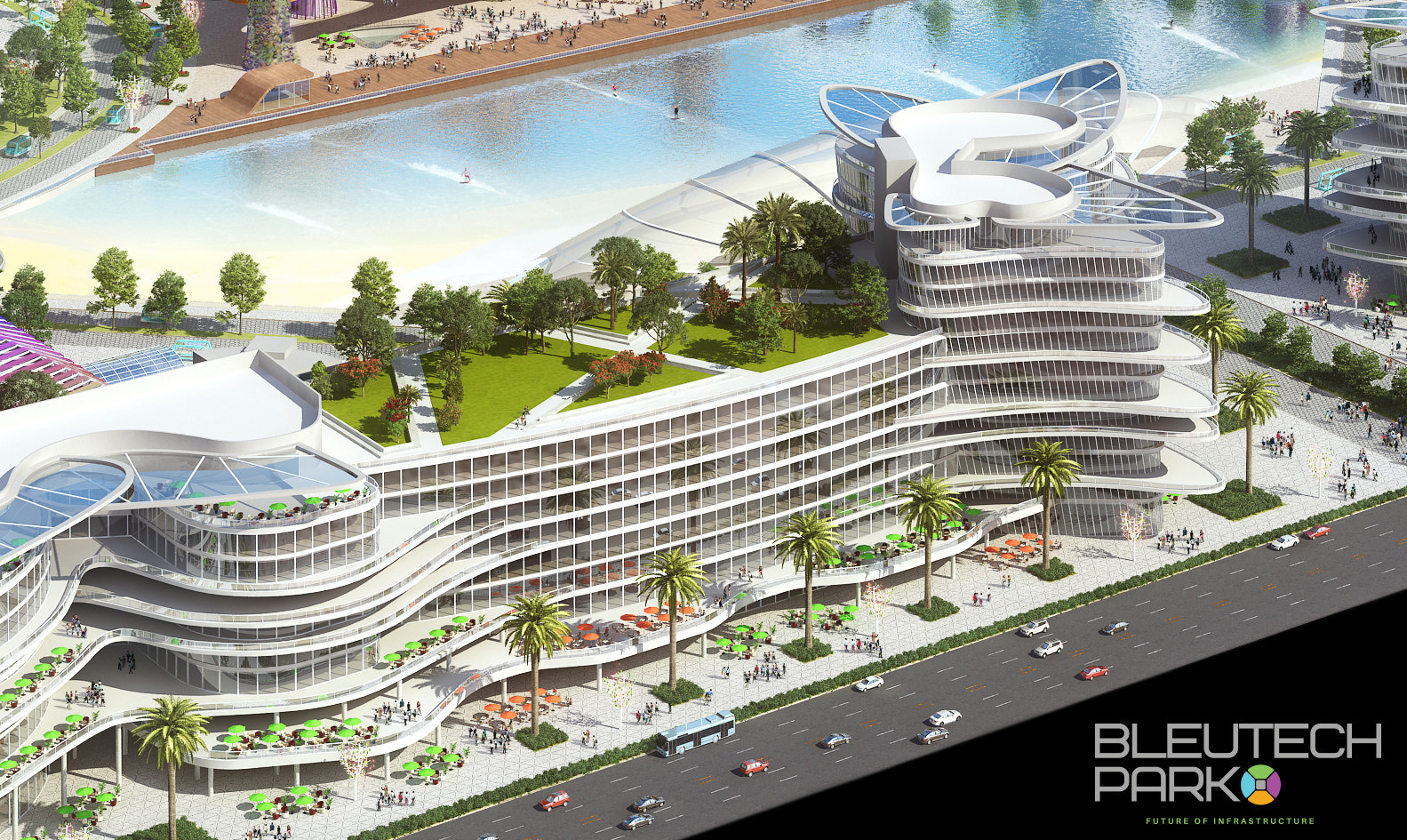 Bleutech Park Properties Inc. has unveiled a number of new technologies it will incorporate into Bleutech Park Las Vegas, the REIT's $7.5 billion development slated to become the first net-zero, smart, connected and safe city in the world.
Bleutech Park Properties announced plans for Bleutech Park at the end of July 2019, outlining what will be a digital infrastructure city featuring residential offerings ranging from workforce housing to ultra-luxury residential options; office space; retail square footage; entertainment space; and hotel accommodations. Bleutech Park will be off the grid, creating its own energy powered by the sun, wind and footsteps.
"We hope Bleutech Park Las Vegas' commitment on sustainability becomes a model for future infrastructure development around the world," Tom Letizia, spokesperson for Bleutech Park Las Vegas, told Commercial Property Executive.
---
READ ALSO: Las Vegas' $7.5B Project Aims to Redefine the Smart City
---
Presenting the technologies during a recent event, the REIT presented a handful of its key technology partners—representatives from Cisco, Knightscope, Patriot One Technologies, Pavegen and Onyx Solar—who demonstrated how their respective contributions will help create a mixed-use enclave centered on cutting-edge sustainability and operated with state-of-the-art technology. Bleutech held the event in Las Vegas on August 28, with project designer KME Architects commencing the program with the presentation of new renderings.
Knightscope and Patriot One, with technologies powered by Cisco, will integrate a smart security ecosystem at Bleutech Park. The comprehensive security plan is set to include such features as AI-powered autonomous robots and technologies providing threat detection and counter-terrorism solutions. Patriot One, for example, will install its PATSCAN Multi-Sensor Covert Weapon Detection Platform, a multi-sensor tool for detecting concealed threats and disturbances.
Pavegen presented its kinetic flooring, which Bleutech Park Properties will position throughout Bleutech Park, covering every square foot of walkable space. Pavegen's technology converts footfall into off-grid power and data, generating energy for such tasks as operating lighting as well as providing environmental monitoring.
Onyx Solar will bring its transparent photovoltaic glass to the project, cladding every building in a material that serves as an energy-generating device through the capturing and transformation of sunlight into energy. Bleutech Park's PV glass sheathing will allow each building to serve as its own full-surface solar panel.
The big green picture
Bleutech Park Properties is looking beyond the big-ticket price tags that can initially come with the newest of green innovations and focusing on the long-term impact—and not just the impact on Bleutech Park's residents, workers and visitors.
"We hope to inspire other developers to commit to sustainability in a whole new way for our future and to put benefits ahead of costs," Letizia said.
Martin-Harris Construction is serving as general contractor for Bleutech Park and is on track to commence construction of the gargantuan project in December 2019. While Bleutech Park Properties shared new renderings of the project at the recent event, it has not yet divulged the specific square footage or acreage involved in the undertaking, nor has it revealed the location. However, the REIT expects to complete the development within six years.