By Gail Kalinoski
Last year, a team of brand-new security guards reported to assignments at office buildings, retail properties, data centers, distribution facilities and schools throughout California. Answering only to the tersest of handles—K5 or K3—these rookies handle 24-hour shifts without complaint, provide colleagues with additional eyes and ears, and alert them to potential trouble.
Though they are far less seasoned than their fellow officers, they are at the vanguard of high-tech building security. These security guards are robots created by Knightscope Inc., a Mountain View, Calif.-based startup. About five feet tall and resembling a cross between R2D2 and a dalek from "Dr. Who," K5 and K3 bring a host of tools to the job, ranging from thermal imaging sensors to high-definition video cameras.
The robots are constantly being upgraded and could soon have the ability to distinguish among breaking glass, gunshots and the human voice, responding accordingly. A nationwide rollout is planned for 2017 by a partnership of Knightscope and Allied Universal, a security systems company co-headquartered in Santa Ana, Calif., and Conshohocken, Pa.
More retail property owners and managers are considering robots for patrols as they become "more affordable and more sophisticated," reported David Levenberg, president of Center Security Services Inc., a retail security consulting firm.
The robots exemplify the wide range of tools from which owners and managers can choose: apps that provide emergency notifications via smartphones, sophisticated license-plate readers and biometric devices. Building security technology is a standard part of financing client move-ins, noted Eric Freeman, vice president of national sales at Summit Funding Group, which provides financing for equipment leases and purchases.
Some of the most crucial building security technology is dedicated to ensuring that only authorized occupants, guests and management personnel can enter. Security experts confirm that integration of smartphones and building systems is the future. "In some buildings, the traditional access cards are being replaced with smartphone apps that give tenants the ability to 'badge in' on card readers with their personal cellphones," reported Mark Anderson, director of security for JLL.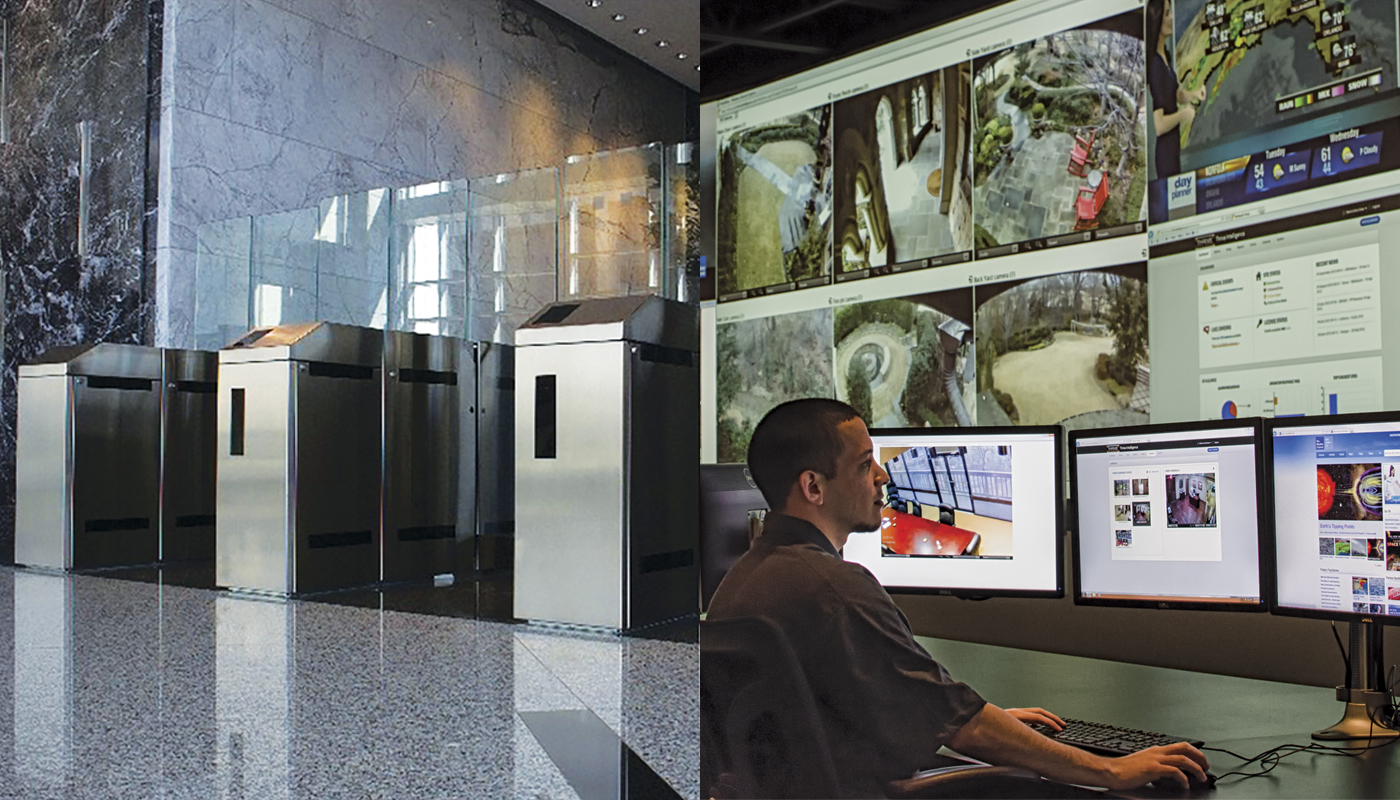 Availability of smart tools is far from universal for all categories of building access, however. Visitor access is one category that offers room for improved technology. "Long term, we hope to see better technology available, so paper visitor passes become obsolete and visitor passes become distributed electronically—similar to electronic boarding passes for the airlines," Anderson said. "This technology is out there but needs to be refined."
Though building access technology is on the edge in some cases, other technology has yet to gain wide circulation. In particular, biometrics (think retina scanners and fingerprint readers) is still used primarily in high-security, low-visitor properties like data centers, said Steve Castor, CBRE's national security director.
"They are not so common to use at the front entry of office buildings, because it could tend to slow down the line if everyone had to stop and look in a retinal scanner," Castor said. "The technology is out there for utilization of a hand reader where you could walk by and wave and it would read without stopping. But it's cost-prohibitive."
Eyes and Ears
Closed-circuit television systems are reaching new levels of sophistication, offering advanced analytics and a high level of automation. "The systems are getting so smart the operators are assisted in doing their jobs," said Levenberg. The systems can be programmed to look for movements or unusual activity in parking garages and stairwells or belongings left behind, alerting security staff or otherwise responding. "Two camera operators can't possibly watch all the activity that is going on all the time. So we need the system to alert us to the activity."
Anderson also pointed to mass-alert emergency notifications. "In addition to the traditional public address system, emergency notifications are now commonly distributed to tenants via cell phone over multiple mediums, such as email, text and phone," he said.
"Where I do see standalone deals—and it's such a big push now—is in higher education," said Eric Freeman, vice president of national sales at Summit Funding Group, which provides financing for equipment leases and purchases. "I've seen it really increase in the last five years." To allay concerns about school shootings or other emergency situations, colleges are installing or upgrading security measures including software that can lock down doors and distribute emergency information.
Also popular for office tenants, Castor said, are apps that act as personal alarm systems. "If they're walking to their car late at night and it's remote parking, you can have the perimeter defined as your building or a one-block radius. They can notify you of an issue or hit a panic button that may go to the security office or 911," he said. "It's like being escorted without someone physically going with them."
Despite offering some intriguing possibilities, drones have yet to catch on. Jim Birch, Liberty Property Trust's senior director of life and safety, plans to keep researching them for possible security applications. But "I can't picture where in our properties I would prefer a robot over a person," he said.
Originally appearing in the March 2017 issue of CPE.